Unique Nature: A completely intact ecosystem that is rare in the world
Described by visiting scientists as the quintessential tropical dry forest and by respected local botanists as one of the last, intact "dwarf forests," Rio Perdido's setting doesn't fit into any of the modern classification genres. This forest is as diverse as it is unique. On the rocky, sun-drenched mesas, both the flora and the topography are rugged. As you descend into the many intertwined, narrow canyons, the vegetation resembles that of a rainforest. This means that you can see and experience completely contrasting settings in just five minutes of trekking, and thus, spot a myriad of species. Mammals, reptiles, insects, amphibians, and birds are abundant on the property. Rio Perdido is a place of adventure for nature lovers and adrenaline junkies alike. It is also naturally a peaceful setting, where disconnecting comes easily, and the harmony of mind, body, and spirit are restored.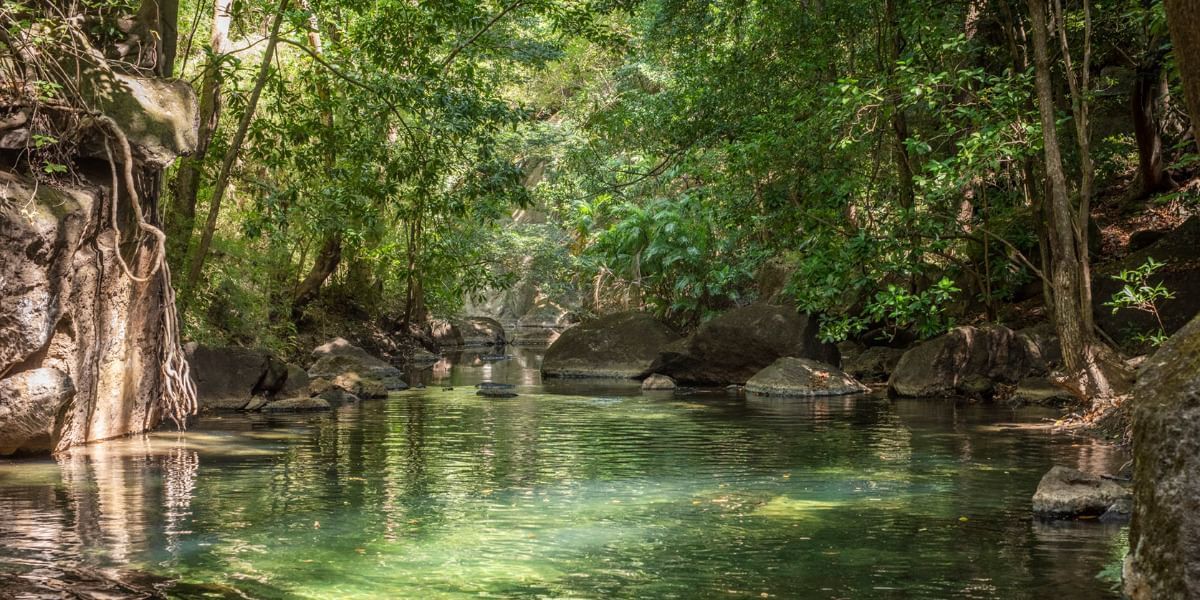 Protection and Regeneration Practices
Assisted Reforestation
Proportionally, the tropical dry forest and dwarf forest ecosystems are significantly more threatened than our planet's rainforests. There's genuinely not much left of these unique woodlands, and we take that quite seriously. Once a dry forest is clear, regeneration is much slower than with decimated rain forest ecosystems. At Rio Perdido, we focus on sustainable transplanting. Because Rio Perdido is located in the region's most sun-drenched area, we must irrigate our younger transplants. To accomplish this, we use most of our treated residual water as well as circulated pool water.
Today, you can notice the difference by merely viewing "Rio Perdido" on Google Earth or Google Maps. Also, many of our repeat visitors instantly note the difference. Most of all, it is the fauna that most appreciates the positive change, indicated by the impressive and consistent increase of their presence.
Protection Against Forest Fires
Hotel Rio Perdido maintains direct contact with the local and federal firefighting bureaus and the executive branch of government overseeing forest fires.
Intolerant to Illegal Hunting
We maintain continual monitoring of the reserve to protect our wildlife.
We hope to continue valuable research with entomologists like Rolando Ramírez Campos and top botanists like Jose Esteban Jiménez, who discovered an entirely new plant species in Rio Perdido.
See: https://www.researchgate.net/publication/324886607_A_new_species_of_Wimmeria_Celastraceae_from_Central_America