Rio Perdido
Experience The Real Costa Rica
Cooled by an ever present breeze and framed by a unique dwarf forest, Rio Perdido Hotel & Thermal River is a sanctuary of well-being, and the true embodiment of Costa Rica's legendary PURA VIDA.
You'll find Rio Perdido in the Guanacaste province, on the western side of the country. Even though the reserve is just an hour's drive from Liberia, this rediscovered gem was once a sacred spot for the Cabecar tribes; people who recognized and harnessed the magic of the thermal gorge, hundreds of years ago.
Rio Perdido was designed to be in perfect harmony with its surroundings. Great care has been taken to preserve this one-of-a-kind setting and its precious resources, while simultaneously providing a very comfortable experience for conscious-minded guests.
Spend your days swimming in the abundant, completely natural hot springs, along a mile of thermal gorge that cuts right through the spectacular, 1,500-acre reserve with 30 bungalows.
Witness a seemingly endless variety of exotic flora and fauna throughout 20 plus miles of hiking trails. Enjoy zip-lining, mountain biking and white water tubing, or if you prefer to relax, lounge by the pool, savour true costarrican cuisine prepared by local culinary artists, do some yoga on our cliff-side pods or visit our spa, for the region's best treatments.
Rio Perdido Hotel is nothing short of enchanting. We look forward to welcoming you.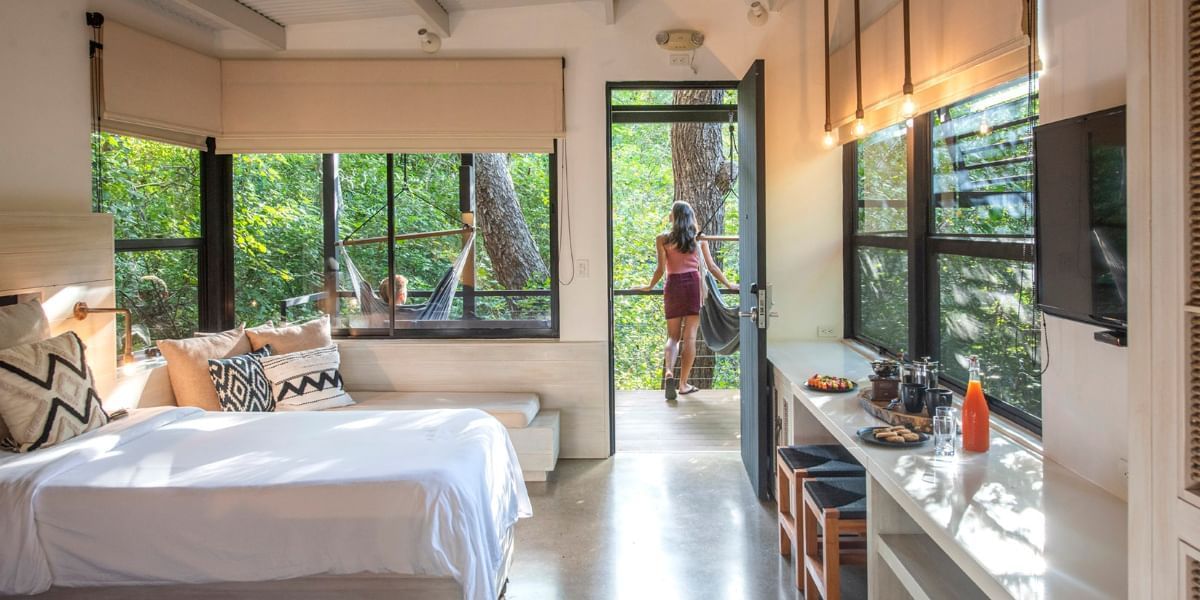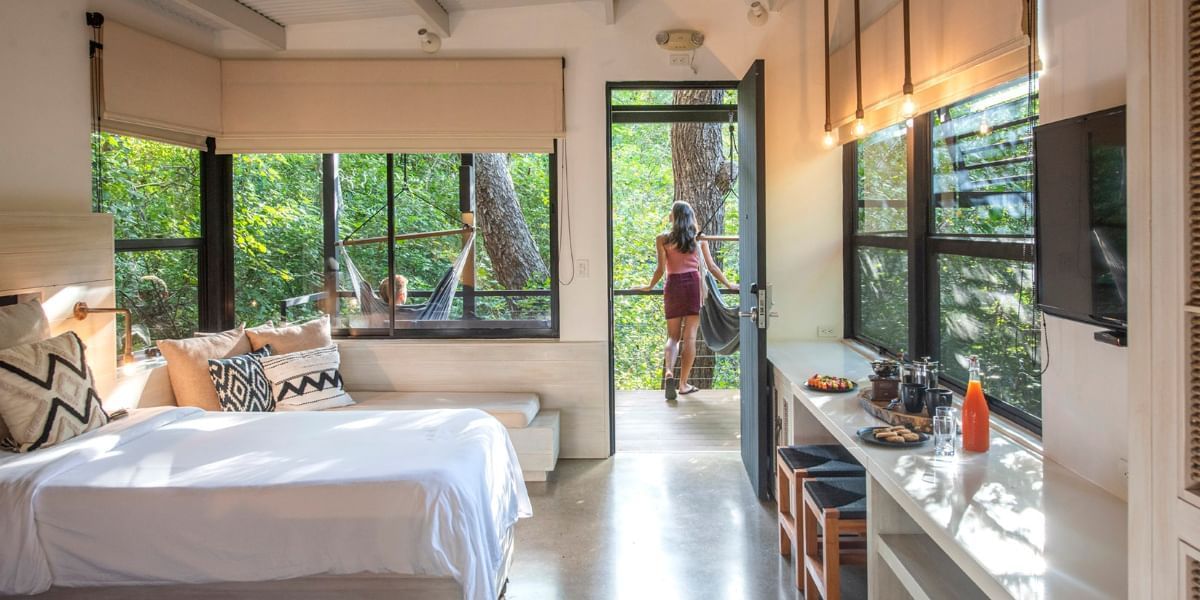 East Bungalows
East Bungalows are 452 square ft in size, and have two twin beds on industrial rollers, which can be moved together to form a king-sized bed.
Read More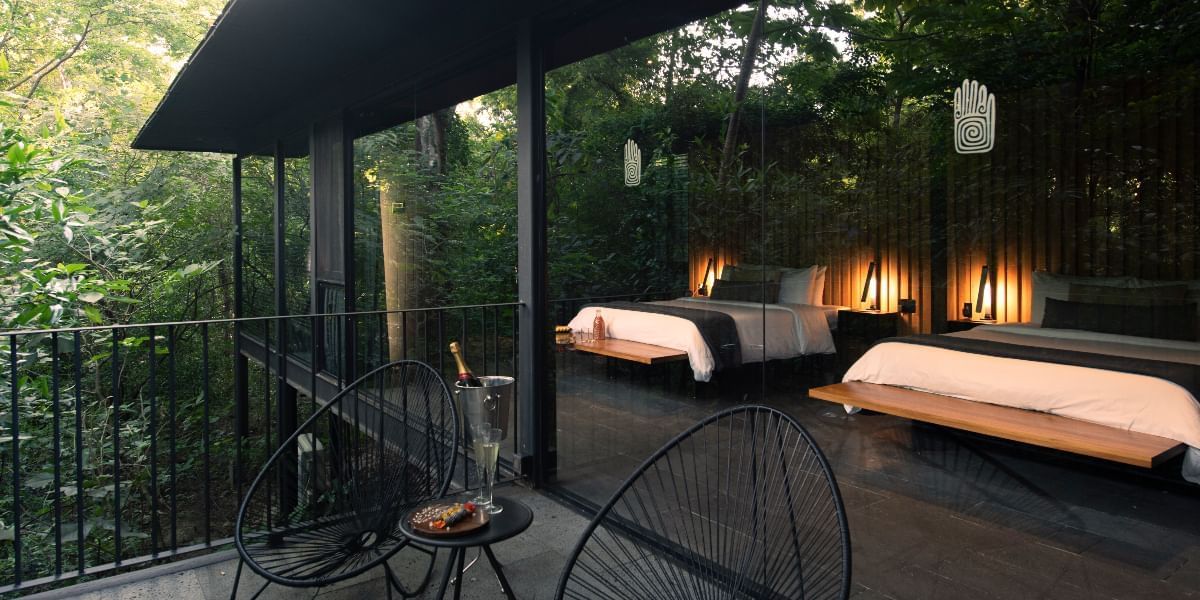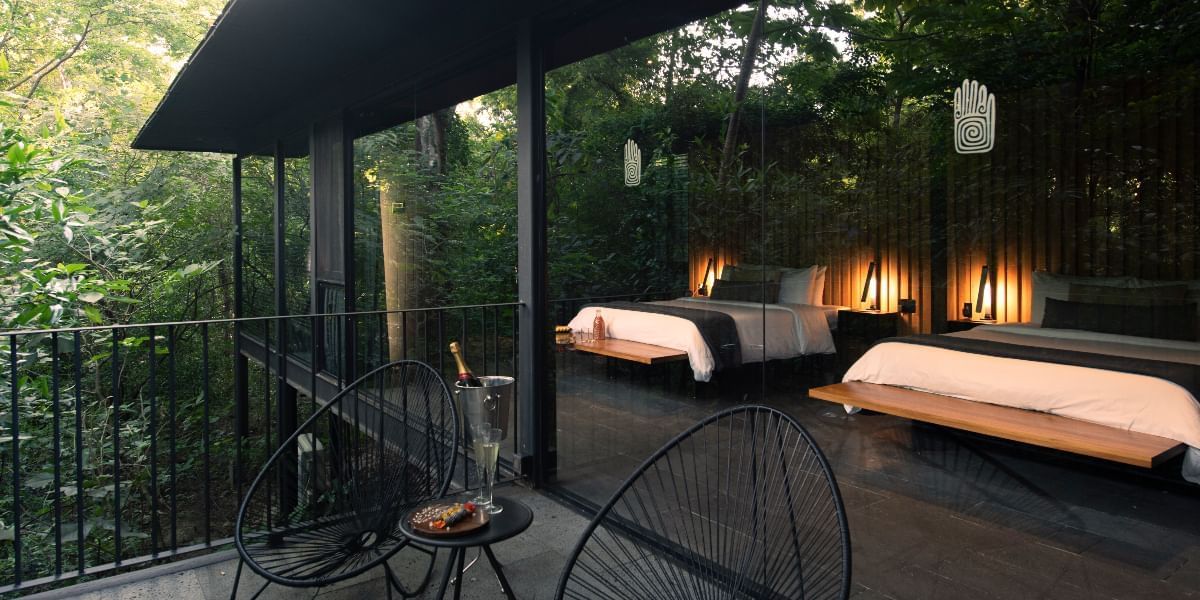 Center Bungalow King
Measuring a spacious 750 square feet, these bungalows consist of a comfortable bedroom and bathroom with an ample, elevated terrace, with custom-made acapulco loungers.
Read More
Things to Do
Our reserve offers everything travelers could possibly dream of – from the signature thermal river to hiking, white water tubing, mountain biking and zip-lining. Those craving a more relaxed experience can visit the spa, soak in one of many hot springs or enjoy a yoga session on the platform.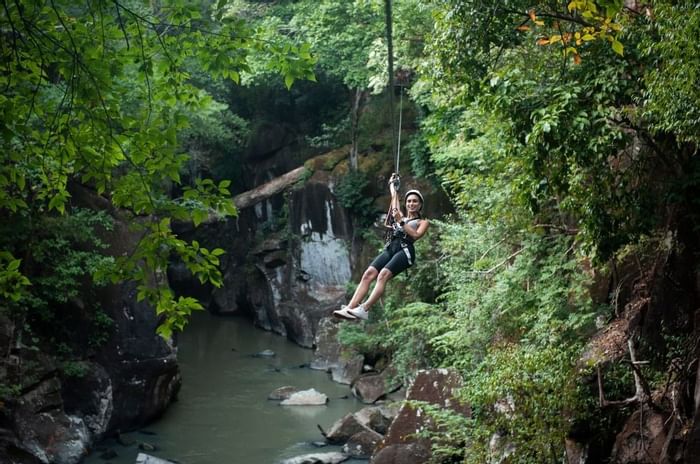 Canyon Adventure
There are hundreds of zip line tours throughout Costa Rica, but none like the ones we offer at Rio Perdido. The main stage of any zip line tour is the view. Nothing compares to sailing through our Rio Blanco canyon.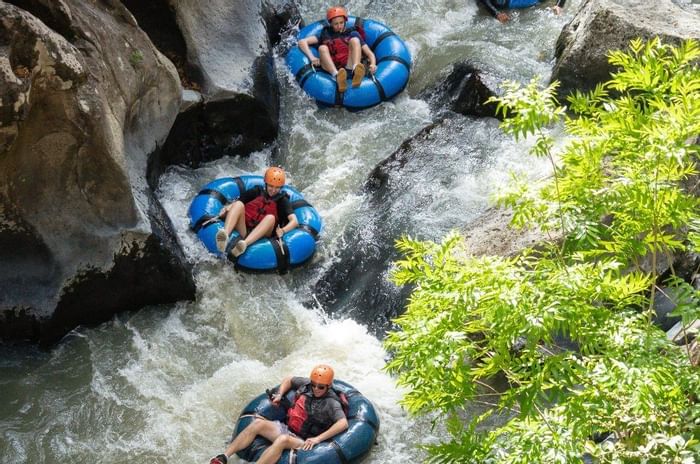 White Water Tubing
Rio Perdido's white water tubing is beyond compare! Picture yourself surrounded by our white canyon walls as you glide through on the magical waters of Rio Perdido.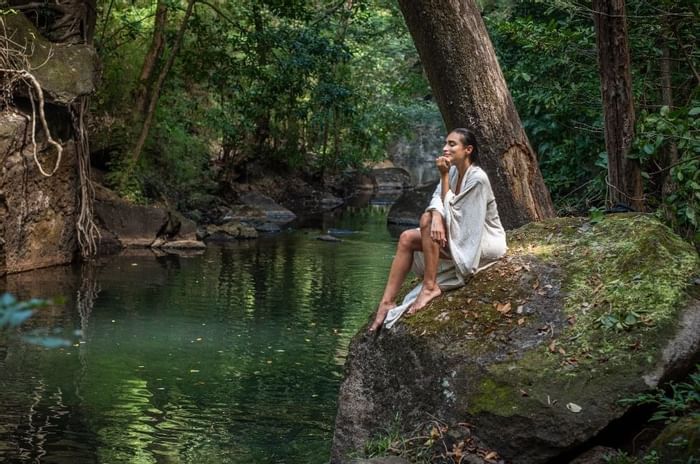 Discover Rio Perdido
There is so much to do in this gloriously secluded area. Whether you need the relaxation of body and mind or an adrenaline rush, we have just what you are longing for either on location or just a short trip away.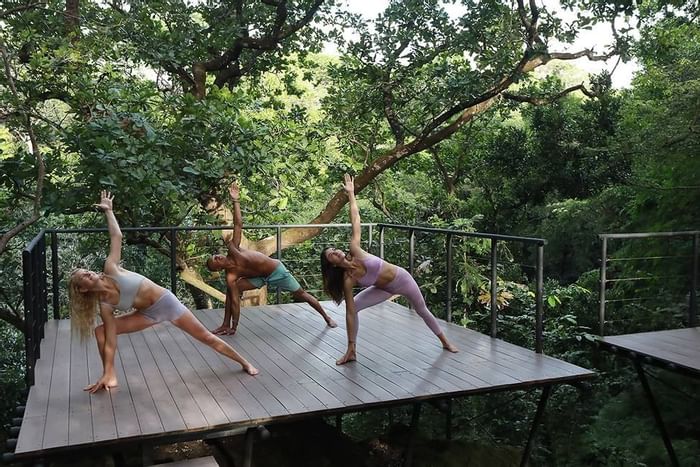 Yoga
Our cliffside pods are taking yoga to the next level as a part of our "meditation done right" initiative. The new feature is composed of four designated pods, nestled into the cliffside, 140 feet above the thermal river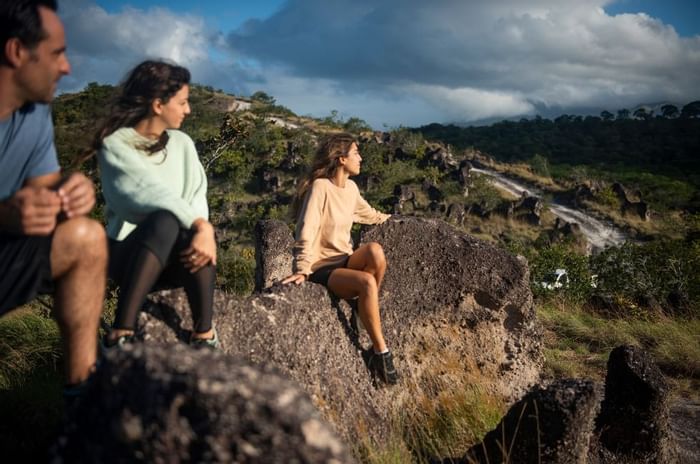 Mountain Biking & Trail Running
Our trails are locally known as Costa Rica's finest and most unique circuits. We offer a single track that flows through our gorgeous property, paths with monolithic rock, fun berms, and tricky descents.
Special mix of solitude and adventure


We stayed 4 nights in a central bungalow and found every aspect of the resort to be as advertised.

3-4 nights was ideal for our activity mix, this gave us plenty of downtime with 1-2 active options each day. The bungalow was exceptional, well-designed, and kept in great condition every day. The outdoor showers were a delight.

Staff: Great attention to detail and hospitality—including to-go breakfast and help with our luggage and car for a 4am departure. Everyone was helpful, warm, and more than willing to guide us through decisions and plans each day.

Activities: Morning yoga on the cliffside deck is extraordinary, tubing down the Rio Perdido rapids is surprisingly fun, the thermal pools are worth exploring and truly lead you into a secluded river canyon

Open-air dining at both the lodge and the pool bar with menu options that did not disappoint. Great ingredient mixes and variety.


2023-07-01
Un petit coin de paradis


Quelle belle expérience, les chambres (center) sont absolument magnifiques (je suis architecte). Bien intégrées dans le paysage, élégantes, salle de bain exceptionnelle avec double douche extérieure. Vue depuis la chambre époustouflante vers la nature
Restaurant de grande qualité. Personnel souriant et attentionné. Source d'eau chaude thermale avec trois piscines extérieures aménagées dans la nature en plein rivière , expérience inouïe Trois piscines en dur au niveau de l'hôtel également de températures différentes.

2023-07-01
Espectacular!!


ESPECTACULAR!! Despertar en medio de la jungla, rodeados de hermosos animales fue increíble. A parte tuvimos una preciosa habitación, dotada con todo lo que se necesitábamos para que nuestra estadía fuera perfecta. Me encantó!!


2023-07-01
Get Lost in the Beauty of Rio Perdido

A naturally beautiful property nestled seamlessly in a tropical canyon, with a variety of activities to do for everyone, and a 5-star staff to enhance your experience.
My husband I stayed here for 6 nights in July. For the entire time, we felt like we were having the quintessential Costa Rican experience but with modern comforts provided.
We saw packs of monkeys everyday, as well as an armadillo, lots of iguanas, and agutis outside of our room. There was so much beautiful green fauna to look at everywhere you turned. The bungalows were nicely designed to give you privacy and views of the lush landscape on the property, the bed was extremely comfortable.
The three pools allowed for lots of swimming and lounging space
As a total compliment to Rio Perdido, we fell in love with this beautiful country because of this resort, and can't wait to explore more of it. And now, we know that we have one place along the way that we will be excited to stop and stay at whenever we return.

2023-07-01
Pura Vida! - Rio Perdido


We visited Rio Perdido for six nights and absolutely did not want to leave. The resort is set in the middle of a peaceful rain forest, we were thrilled to see capuchin white face monkeys and howler monkeys in the tree's every day. The diversity of the wildlife was amazing. We encountered a short nose ant eater, several armadillos, unusual frogs and many varieties of iguana's and chameleons.


The resort is extremely well maintained and beautiful. We hiked many miles of trails, traversed cable hung bridges, viewed volcano's, waterfalls and bathed in the thermal river.
Additionally, there are three man made pools filled with geothermal water which felt wonderful and healing. One of the pools has a swim up bar with reasonably priced drinks.


We didn't know what to expect regarding the restaurant since there are really no alternatives. We are pleased to report that the food was outstanding with a wide variety of choices and specials. Meals were definitely something to look forward to.


Lastly, the amazing staff: Without exception, every staff member we encountered were ver friendly and welcoming. Even maintenance workers installing new marker lights on the road never failed to to give us a robust 'hola' as we walked by. This was easily the best vacation we have ever had. The time flew by way too fast and we can't wait to return. Pura Vida Rio Perdido.


2023-06-01
Tranquility, Activity, Relaxation at Rio Perdido


We had a wonderful stay at Rio Peridod. It was the perfect blend of tranquility and activities in the sanctuary of Rio Perdido. We had a Center King Bungalow that stood alone. Beautiful windows framed the forest with a large patio to take in the view and sounds.
You walk to the main lodge where breakfast is complimentary and ala carte, very good. This is also where you eat dinner, it's open air and we watched a beautiful moon rise 2 nights. A lovely breeze flows through.
There are 3 thermal pools of varying temps to relax in. Walk down the path and you have the crystal clear thermal stream Rio Perdido, beautiful pools of warm water, volcanic clay to scrub with , sit looking up and see the small monkeys scrambling in the trees high above- just magical!!
For those who want activities, there's water tubing on the Rio Blanco on the resort, a Canyon Adventure that has about 5 Zip line platforms that uses a carbon fiber cable that moves you quietly over the canopy and Rio Blanco. The owner is committed to reducing the impact on the forest and it shows. There are also biking , hiking trails and a yoga platform.
It was a magical place and look forward to returning one day!


2023-05-01
Unforgettable & awesome travel experience to disconnect from stress, and the fast pace of city

Nestled amidst the captivating beauty of nature, Rio Perdido stands out as a gem in the heart of adventure and relaxation. From the awe-inspiring installations to the impeccable service and culinary delights, Rio Perdido Hotel & Thermal River exceeded my expectations in every way.

Captivating Installations, impeccable Service (every request was met with a smile, and the staff went above and beyond to ensure my stay was comfortable and memorable), culinary delights and gluten-free (the onsite restaurant exceeded all expectations)…
My travel experience at Rio Perdido during May 2023 was nothing short of extraordinary. The stunning installations immersed me in the beauty of nature, while the exceptional service provided a sense of comfort and care throughout my stay. The culinary offerings, including the remarkable chef and the variety of gluten-free options, elevated the overall experience to new heights. I wholeheartedly recommend Rio Perdido as a must-visit destination for anyone seeking a memorable and all-encompassing travel experience.

Waiting to come back soon..

2023-05-01
Just book it and enjoy!


Rio Perdido is truly the most magical place that I've ever been to. From the moment I stepped foot into to reception area to the last minute of my stay I was in awe. The property is stunning, elegant, chic and private. The food is great and the activities are simply a must. But what truly makes this experience 20/10 is the staff. They are the heart and soul of this place. Jonathan, Joiner, Cesar, Engeel, Martinez and Ximena thank you for such a wonderful and memorable experience. My son and I had such an amazing time! We will be back soon! Thank you!


2023-05-01