Rio Perdido
Experience The Real Costa Rica
Cooled by an ever present breeze and framed by a unique dwarf forest, Rio Perdido Hotel & Thermal River is a sanctuary of well-being, and the true embodiment of Costa Rica's legendary PURA VIDA.
You'll find Rio Perdido in the Guanacaste province, on the western side of the country. Even though the reserve is just an hour's drive from Liberia, this rediscovered gem was once a sacred spot for the Cabecar tribes; people who recognized and harnessed the magic of the thermal gorge, hundreds of years ago.
Rio Perdido was designed to be in perfect harmony with its surroundings. Great care has been taken to preserve this one-of-a-kind setting and its precious resources, while simultaneously providing a very comfortable experience for conscious-minded guests.
Spend your days swimming in the abundant, completely natural hot springs, along a mile of thermal gorge that cuts right through the spectacular, 600-acre reserve with 30 bungalows.
Witness a seemingly endless variety of exotic flora and fauna throughout 20 plus miles of hiking trails. Enjoy zip-lining, mountain biking and white water tubing, or if you prefer to relax, lounge by the pool, savour true costarrican cuisine prepared by local culinary artists, do some yoga on our cliff-side pods or visit our spa, for the region's best treatments.
Rio Perdido Hotel is nothing short of enchanting. We look forward to welcoming you.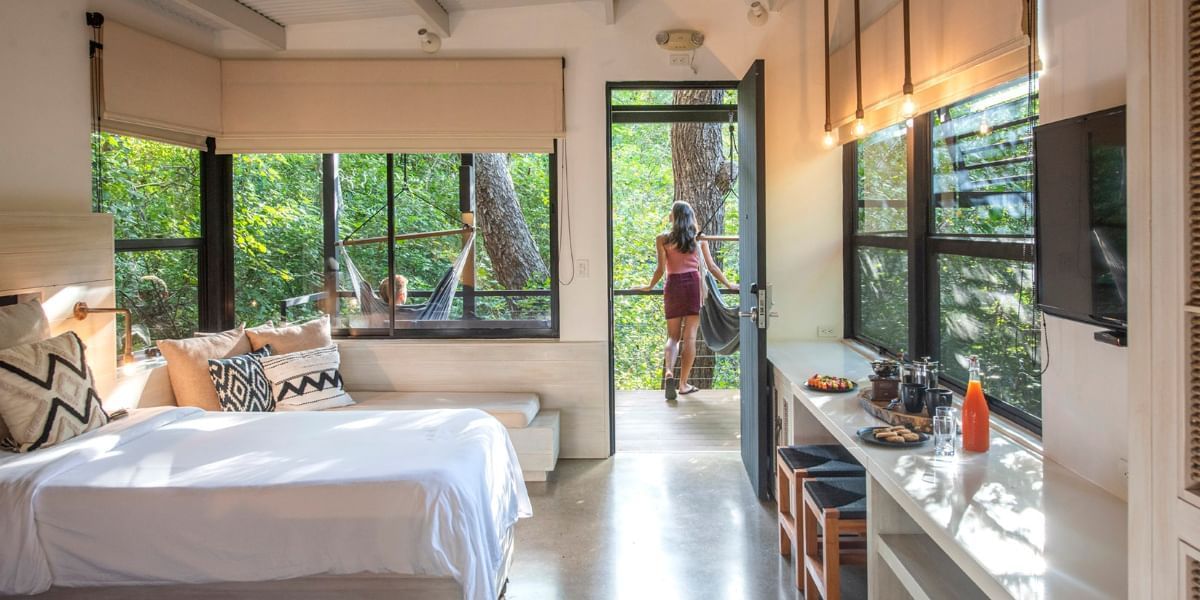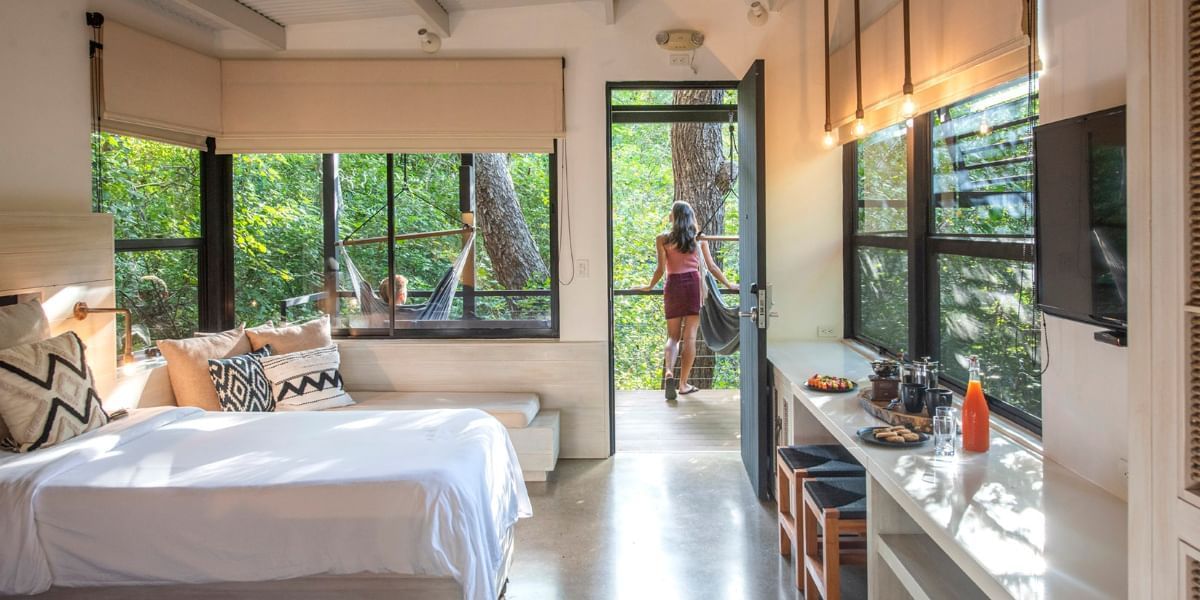 East Bungalows
East Bungalows are 452 square ft in size, and have two twin beds on industrial rollers, which can be moved together to form a king-sized bed.
Read More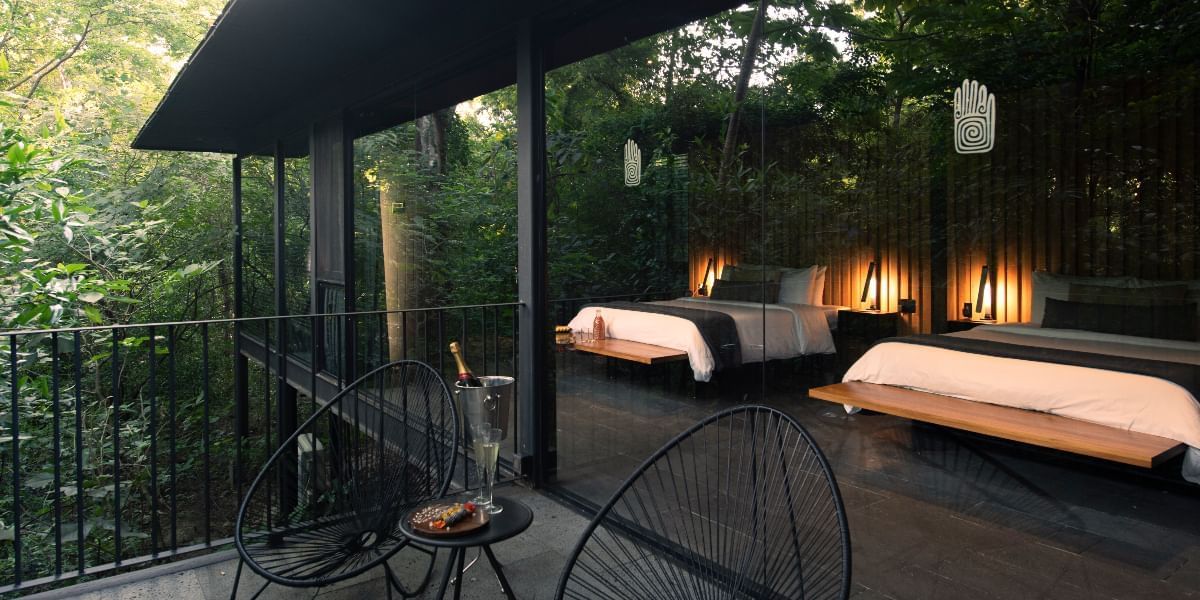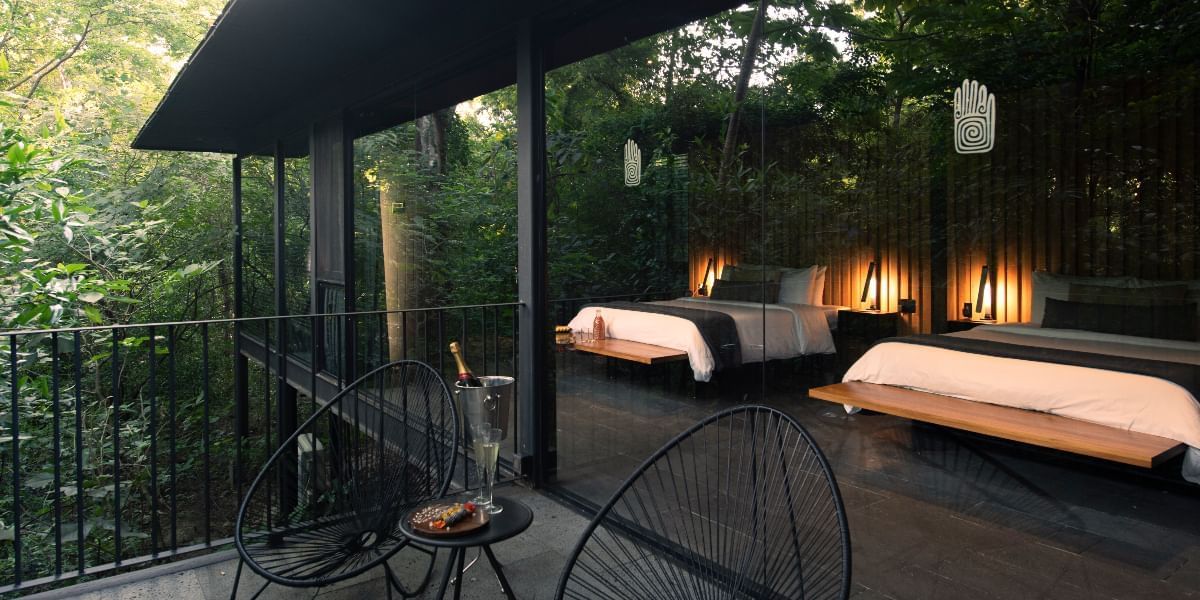 Center Bungalow King
Measuring a spacious 750 square feet, these bungalows consist of a comfortable bedroom and bathroom with an ample, elevated terrace, with custom-made acapulco loungers.
Read More
Things to Do
Our reserve offers everything travelers could possibly dream of – from the signature thermal river to hiking, white water tubing, mountain biking and zip-lining. Those craving a more relaxed experience can visit the spa, soak in one of many hot springs or enjoy a yoga session on the platform.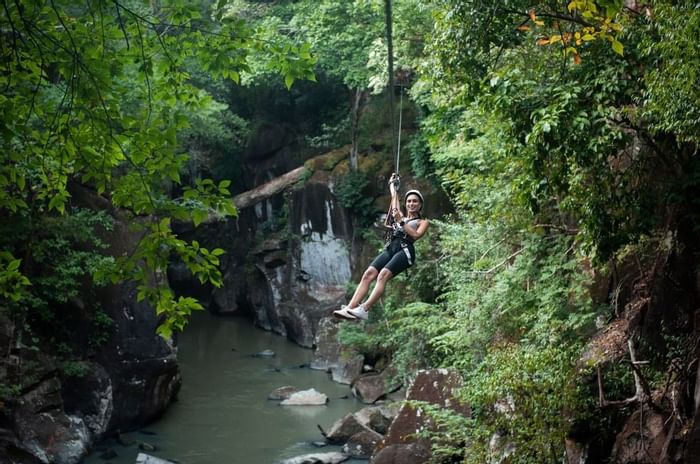 Canyon Adventure
There are hundreds of zip line tours throughout Costa Rica, but none like the ones we offer at Rio Perdido. The main stage of any zip line tour is the view. Nothing compares to sailing through our Rio Blanco canyon.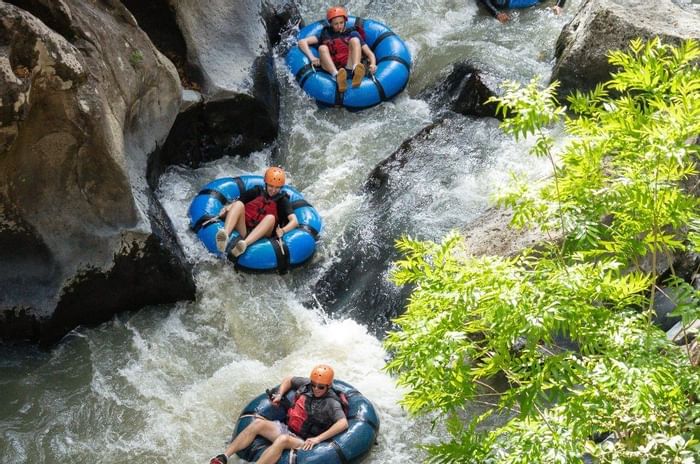 White Water Tubing
Rio Perdido's white water tubing is beyond compare! Picture yourself surrounded by our white canyon walls as you glide through on the magical waters of Rio Perdido.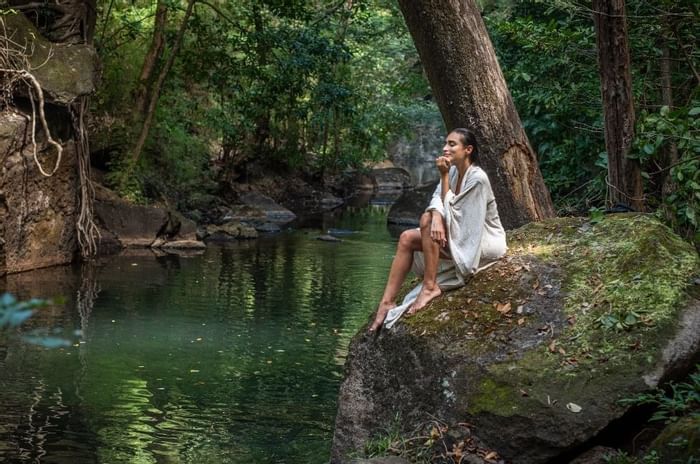 Discover Rio Perdido
There is so much to do in this gloriously secluded area. Whether you need the relaxation of body and mind or an adrenaline rush, we have just what you are longing for either on location or just a short trip away.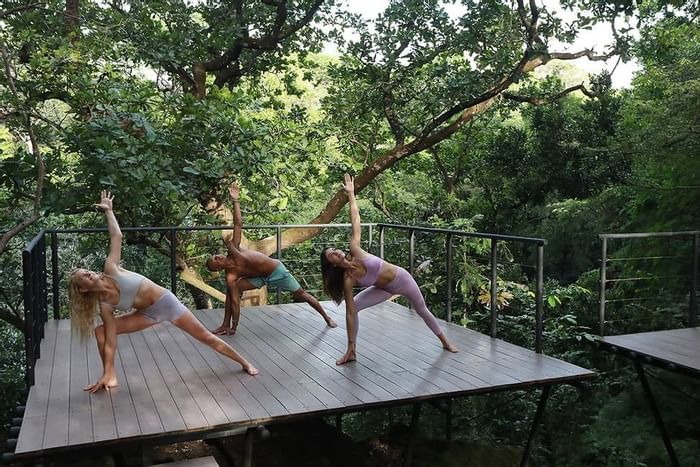 Yoga
Our cliffside pods are taking yoga to the next level as a part of our "meditation done right" initiative. The new feature is composed of four designated pods, nestled into the cliffside, 140 feet above the thermal river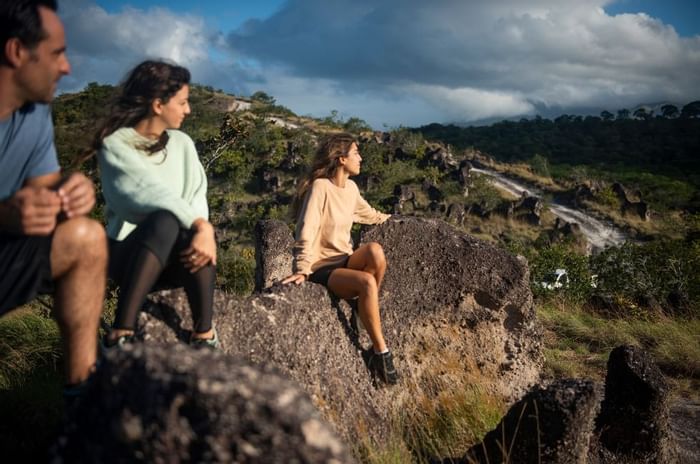 Mountain Biking & Trail Running
Our trails are locally known as Costa Rica's finest and most unique circuits. We offer a single track that flows through our gorgeous property, paths with monolithic rock, fun berms, and tricky descents.
Amazing hotel not far from Liberia airport

We stayed here on our last night in Costa Rica and wish we had stayed more days to take advantage of all of the activities. It is Covid safe because everything is open air and the staff all wear masks. The grounds are beautiful and well-maintained. Lots of hiking and biking trails. Free guided hike every morning. The staff are very friendly and easily accessible. The rooms are very private, clean and have a beautiful view of the forest. We did the zip line which was fun and had a terrific view of the canyon. The Tarzan swing was fun and not too scary. My friend did the free yoga in the morning which was on the cliff face. She loved it! The other couple we were traveling with did the tubing and really enjoyed it. The restaurants and pools were lovely. Thermal river was beautiful. There were several pools along the river to soak in, many we had all to ourselves. One hour drive from Liberia airport. I can't recommend this place enough. You will love it!
Truly a sanctuary

I have found my new hot springs sanctuary in Costa Rica. I spent 4 nights at Rio Perdido which was a highlight of my past month in Costa Rica. I could have easily stayed another week or more. The geothermal river was a magical spot for me to meditate and reflect. The waters are incredibly healing.

I absolutely loved my Bungalow! It felt like I was in a luxury tree house. The decor is lovely, and compliments the natural landscape well. The bed was very comfortable, which allowed me to sleep like a baby. I loved walking the pathways through the jungle landscape and discovering all kinds of interesting plants, insects and reptiles.

The staff are super friendly, helpful and accommodating. It's obvious that everyone really enjoys working there and are good friends, which made for a fun vibe. I was quite impressed with the food as well. Loved their fresh juices and homemade tortillas! They were great about accommodating my food allergies/preferences.

I loved my stay so much that I'm heading back next month!
Great Experience, Amazing Hotel and Staff

We decided to extend our stay in Costa Rica for four days this past December, and ended up booking at Rio Perdido. The rooms are great, each nestled into the jungle, with plenty of privacy, and very well designed and appointed. The grounds and amenities are close to perfect, with great pools and hot springs. And if you want to do something more natural than the pools, you can hike to the river and swim in the thermal springs, which are really beautiful. We did yoga every morning, which was great, zip lines on the property, the spa, and had great meals throughout the stay. The best thing about the hotel is the staff, however. Without exception everyone was friendly, attentive and really seemed to enjoy being there. We have stayed a lot of places across the globe and this is one of the best, and one of the best values.
Unbelievable experience!!!

If you are any where near this place do yourself a favor and book for as long as you can! My stay was too short! Staff is incredibly attentive and friendly. Food was amazing! The bungalows are amazing. Not to mention the howler monkeys with coffee at daylight. I forfeited two nights where I had originally booked just to come back here for my last 2 days in Costa Rica! Tubing and the thermal river, swim up pool bar all on 600 acres. I'm too old for zip line but you can do that too.
This hotel is a GEM!

Rio Perdido should be on every traveler's list of places to visit. It is a true GEM from the staff to the food to the activities, thermal rivers, yoga, hiking I truly can't say enough about the quality of each and everything at the resort. They have thought of the little details and the staff are so helpful and accommodating (even when you ask for a golf cart to take you to your room which is super close!).
Relaxing stay

Rio Perdido is a lovely and relaxing place, and out of all places we stayed at in Costa Rica the best to see howler monkeys! There's is a group of monkeys literally living around the restaurant and the pool. The bungalows are well equipped, stylish, and very comfortable, in the middle of the forest. The food is delicious. There's a small spa to get a massage, and 3 pools to relax by. There's a bunch of activities to choose, we had a night walk which ended with ziplining back to the lodge, which was great. Wandering down to the thermal river and sitting in the rock pools in the middle of the forest was one of the most relaxing activities we did in Costa Rica, along with early morning yoga in the forest. Great place to relax, with enough to do for a few days.
Probably one of the top 5 hotels I have stayed at in the WORLD.

The design of the hotel, immersed in nature, is just so lovely. The hotel grounds is just unbelievably breathtaking--from the viewing deck, to the natural thermal pools, to the hotel pools. The canyon adventure is special, it's not just a regular zipline course. The staff members were all welcoming.
A real life Shangri-La

Rio Perdido has so many extraordinary things about it that you really need to stay here for several days to see and experience everything. We have been here 4 nights and we could easily stay longer and still do different things every day. Most exceptional resorts have 1 or 2 amazing features - Rio Perdido has almost too many to count. The thermal river with naturally made pools you can soak in while under the jungle canopy, yoga on a platform overlooking the canyon, the kindest and most genuinely friendly staff, the most thrilling zip line adventure we have ever been on, delicious food made to order that was very reasonably priced, a swim up bar with water warm thermal water, hiking trails that branch out from the resort, monkeys that come and visit the pool area every afternoon to eat the flowers . . This place is something else. It should NOT be missed. We literally cannot wait to come back next year.
An Unmatched Location
Even many Bagaces County residents are unaware of the breathtaking beauty that lies just beyond their doorstep. Our reserve offers everything travelers could possibly dream of – from the signature thermal river to hiking, white water tubing, mountain biking and zip-lining. Those craving a more relaxed experience can visit the spa, soak in one of many hot springs or enjoy a yoga session on the platform.
Guanacaste province, Costa Rica.