Rio Perdido
Experience The Real Costa Rica
Cooled by an ever present breeze and framed by a unique dwarf forest, Rio Perdido Hotel & Thermal River is a sanctuary of well-being, and the true embodiment of Costa Rica's legendary PURA VIDA.
You'll find Rio Perdido in the Guanacaste province, on the western side of the country. Even though the reserve is just an hour's drive from Liberia, this rediscovered gem was once a sacred spot for the Cabecar tribes; people who recognized and harnessed the magic of the thermal gorge, hundreds of years ago.
Rio Perdido was designed to be in perfect harmony with its surroundings. Great care has been taken to preserve this one-of-a-kind setting and its precious resources, while simultaneously providing a very comfortable experience for conscious-minded guests.
Spend your days swimming in the abundant, completely natural hot springs, along a mile of thermal gorge that cuts right through the spectacular, 600-acre reserve with 30 bungalows.
Witness a seemingly endless variety of exotic flora and fauna throughout 20 plus miles of hiking trails. Enjoy zip-lining, mountain biking and white water tubing, or if you prefer to relax, lounge by the pool, savour true costarrican cuisine prepared by local culinary artists, do some yoga on our cliff-side pods or visit our spa, for the region's best treatments.
Rio Perdido Hotel & Thermal River is nothing short of enchanting. We look forward to welcoming you.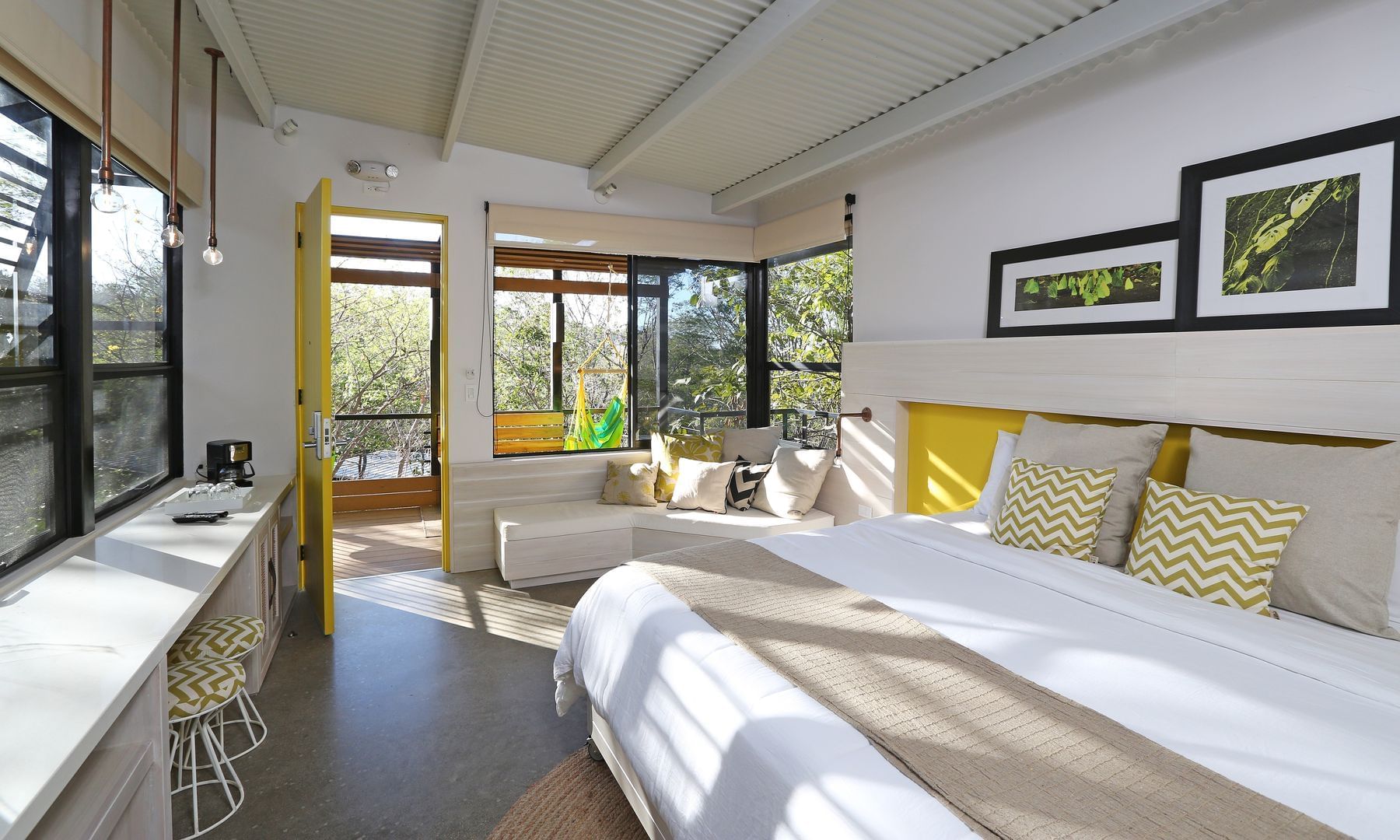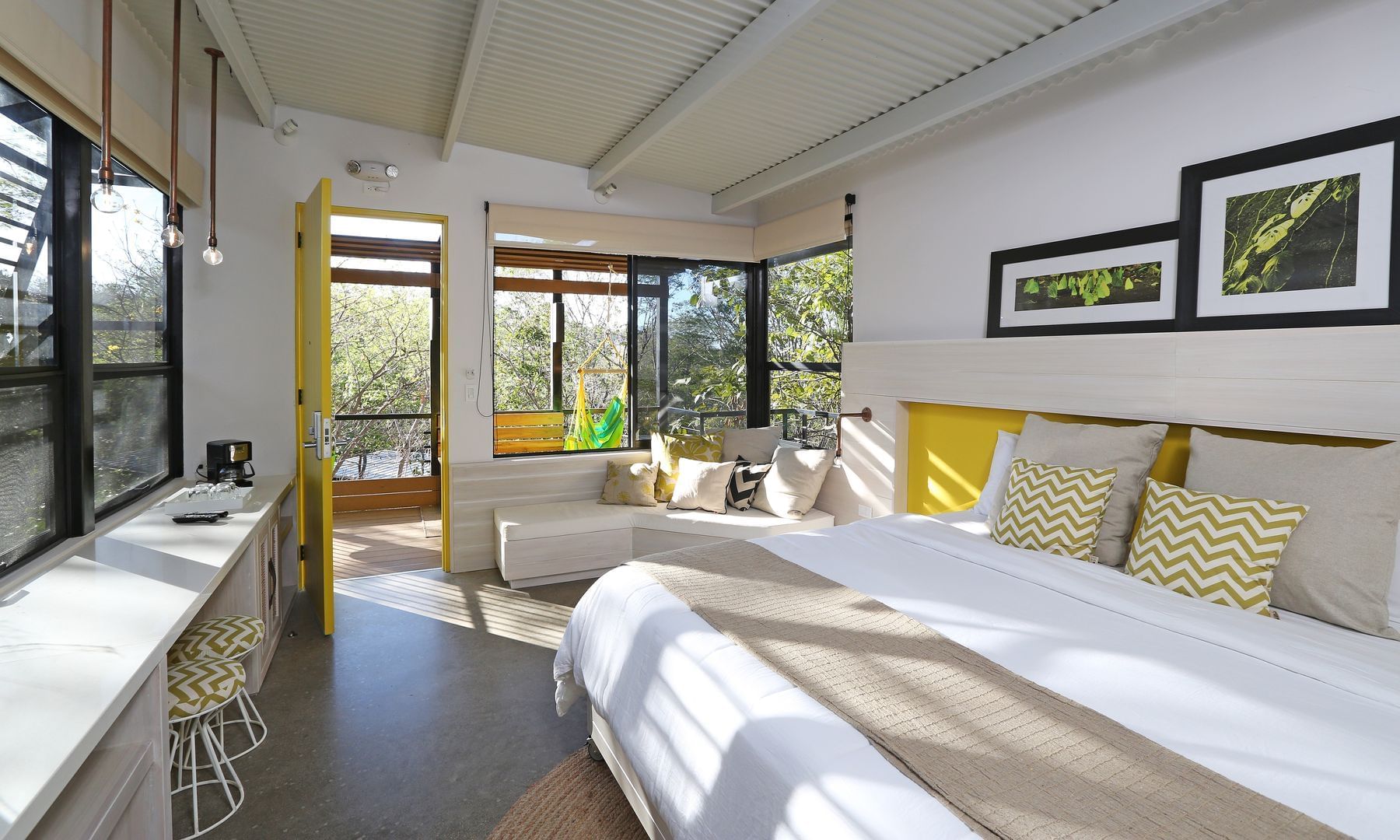 East Bungalows
East Bungalows are 452 square ft in size, and have two twin beds on industrial rollers, which can be moved together to form a king-sized bed.
Read More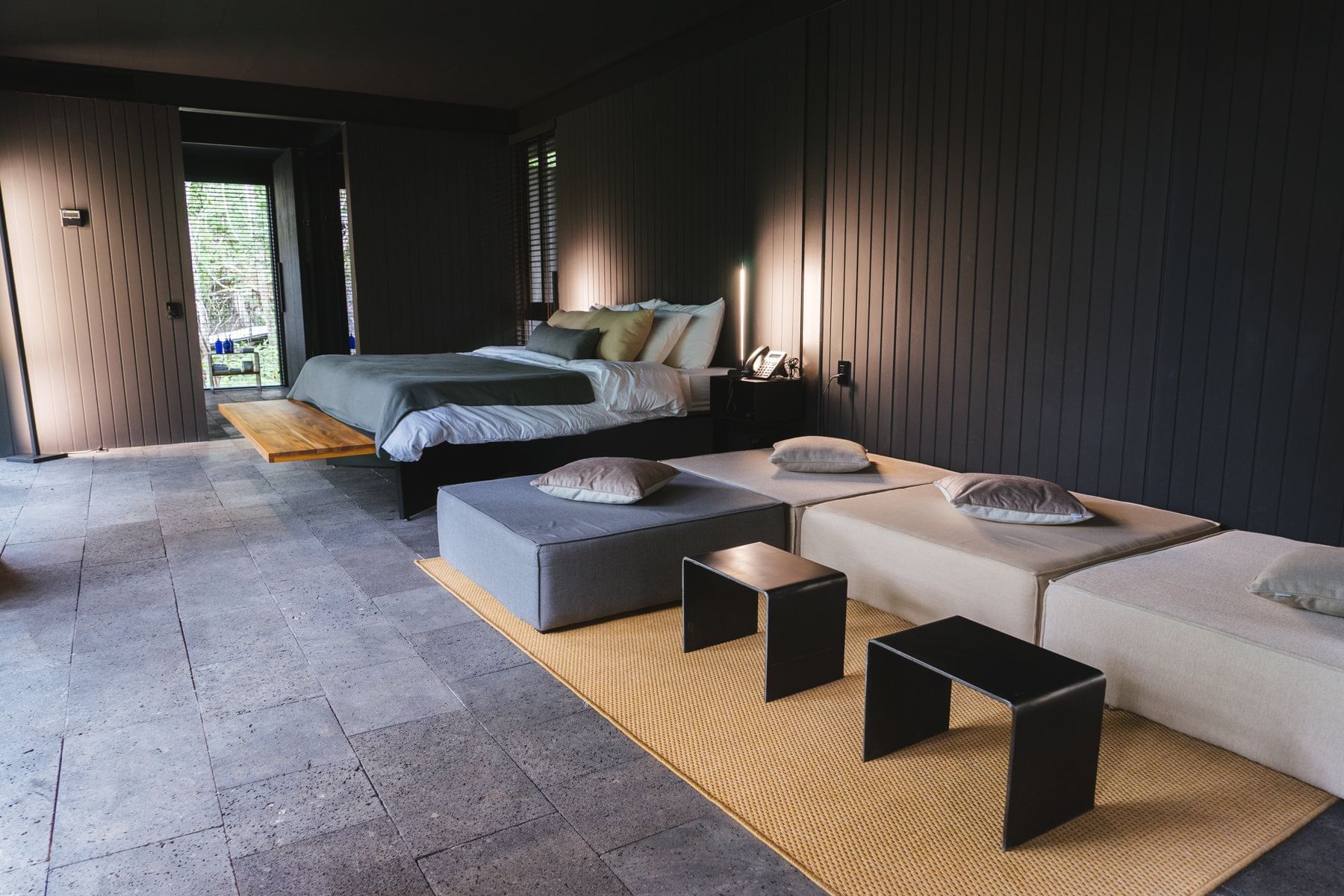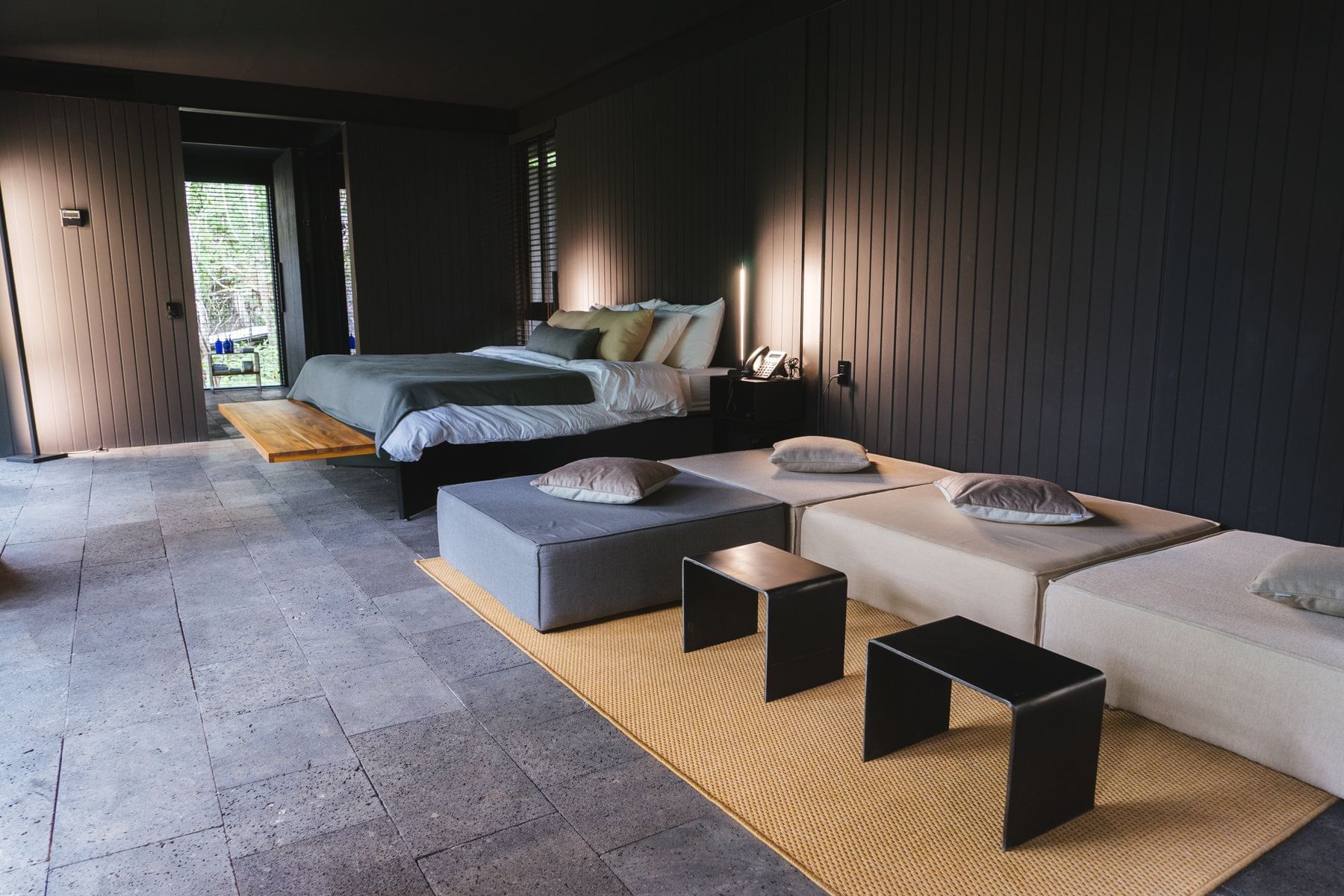 Center Bungalow King
Measuring a spacious 750 square feet, these bungalows consist of a comfortable bedroom and bathroom with an ample, elevated terrace, with custom-made acapulco loungers.
Read More
Things to Do
Our reserve offers everything travelers could possibly dream of – from the signature thermal river to hiking, white water tubing, mountain biking and zip-lining. Those craving a more relaxed experience can visit the spa, soak in one of many hot springs or enjoy a yoga session on the platform.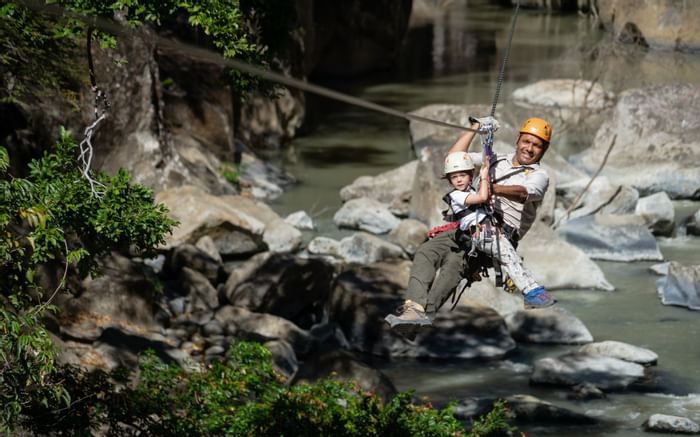 Canyon Adventure
There are hundreds of zip line tours throughout Costa Rica, but none like the ones we offer at Hotel Rio Perdido. The main stage of any zip line tour is the view. Nothing compares to sailing through our Rio Blanco canyon.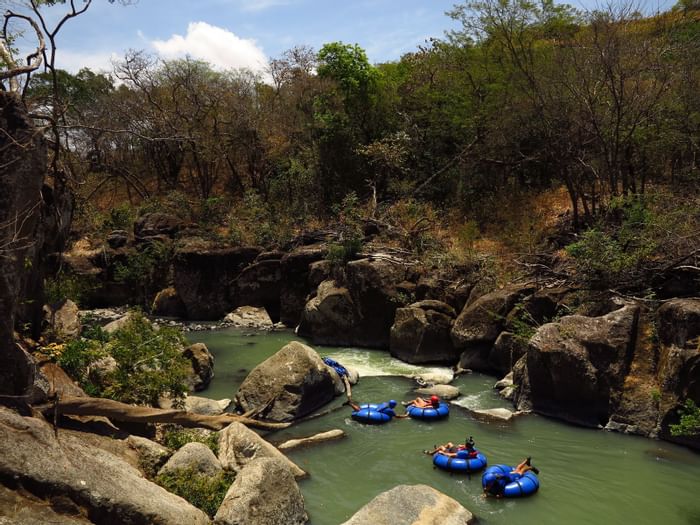 White Water Tubing
Hotel Rio Perdido's white water tubing is beyond compare! Picture yourself surrounded by our white canyon walls as you glide through on the magical waters of Rio Perdido.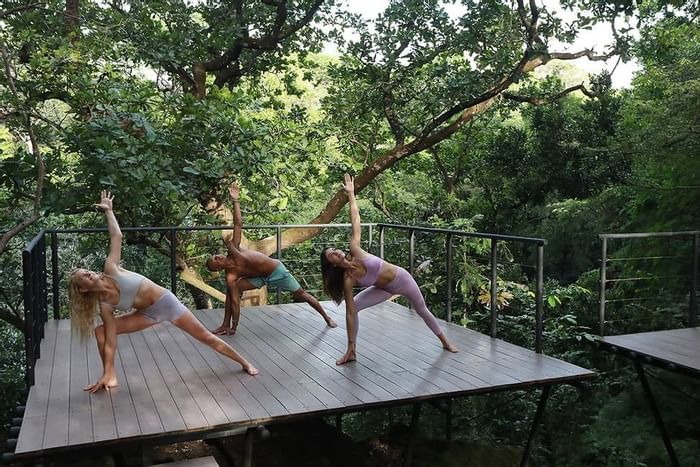 Yoga
Our cliffside pods are taking yoga to the next level as a part of our "meditation done right" initiative. The new feature is composed of four designated pods, nestled into the cliffside, 140 feet above the thermal river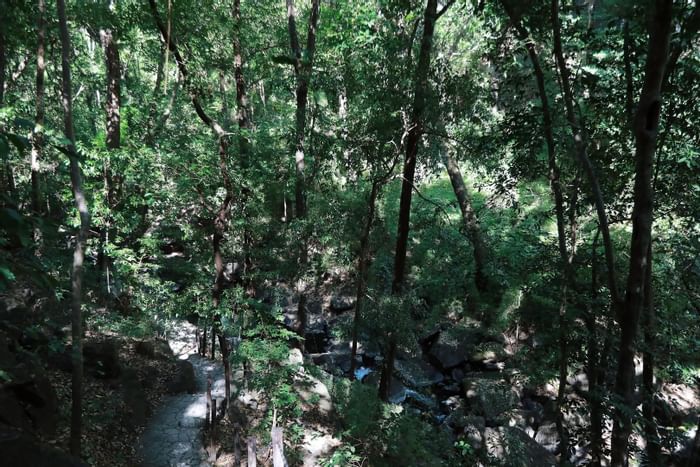 Discover Rio Perdido
There is so much to do in this gloriously secluded area. Whether you need the relaxation of body and mind or an adrenaline rush, we have just what you are longing for either on location or just a short trip away.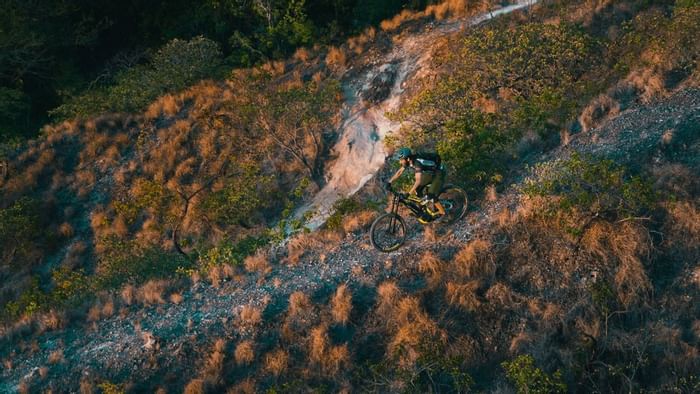 Mountain Biking & Trail Running
Our trails are locally known as Costa Rica's finest and most unique circuits. We offer a single track that flows through our gorgeous property, paths with monolithic rock, fun berms, and tricky descents.
We Love This Place!


We absolutely love Rio Perdido. We visited on a day trip during our first visit to Costa Rica and opted to stay for a night this time. The bungalows are very nice and clean with lovely porches. The wifi is very strong. The staff was wonderful and COVID protocol was great - everyone had masks on and cleaning procedures were great. All dining options are outdoors, which was great. The thermal river and hotel pools are wonderful! We wished we could have stayed longer!

2021-02-13
Unique and amazing place!

Our family of 6 stayed here four nights. The property is really spectacular and immaculate. It's a huge gated property with two rivers (one is warm), hiking trails, and bike trails. There is wildlife everywhere you look from monkeys, to capyburas, and even armadillos! The bungalows are very unique and our shower was amazing being partly inside and partly outside. What really stands out other than the beautiful surroundings is the great customer service and the amazing food. Breakfast is included daily and was wonderful - all the juices and smoothies were so good! The staff even delivered food to our room on many occasions for the kids. The swim up bar was a family favorite and we ate lunch there many days. We did the ziplining and tubing which were so much fun - we just wished the tubing adventure was longer. All the guides were fantastic. The spa services were great as well. Rio Perdido is definitely a special and unique place!

2021-01-07
It was a life-changing trip

As we were walking down a staircase to the dining room this morning for breakfast I experienced a true sense of Being Home. Not once did I feel as if I was in a hotel (we don't like hotels), not that we weren't attended to or cared for. At Rio Perdido I felt that I authentically belonged right there. Your staff feels like family.

And perhaps it is psychosomatic but I am going to chalk it up to the fact that there is some truth to the "blue zone" - I am wearing my giant cast again in a little pain waiting for our plane.

It was a life-changing trip for Chiara and I. Chiara said "that was the best hotel she's ever been to -most hotels are very boring"…

2021-08-01
De ensueño

Paradisiaco lugar, con exuberante y particular naturaleza, sus delicadas y suaves aguas termales son un balsamo para el cuerpo y el espiritu; especial atencion de Jonatan ... Nos hospedamos en la Habitacion 13 con todas las medidas de prevencion ante la emergencia mundial por el COVID, pero en este lugar pierdes preocupacion por este motivo todo es sanitizado y lugares amplios y extensos sin aglomeraciones ni filas.
Perfect for a 3-4 day get away!

Stunning property with incredible staff. Unlike anything I have seen before. The views from the restaurant are amazing and the poolside bar is a thing of beauty. Food was excellent and the zipline, hiking and tubing very nice. Everyone that we met (staff & guests) were very nice, can't recommend it highly enough.

2021-09-03
Loved Rio Perdido!

This hotel was amazing! 3 heated pools, a swim up bar, excellent food, thermal rivers, zip lines, hikes, tubing, so much to do! Each room is not attached to another and were modern in decor. We loved the walk to our room and enjoyed all the meals. The service is top notch and the staff is so friendly. I felt safe zip lining for the first time and enjoyed the thermal rivers (never had done that either!). We saw a pod of monkeys one day and that was really cool too. Had a great massage one day too. Highly recommend this place and want to thank everyone for making our stay and activities so enjoyable.

2021-05-11
Best part of the trip

Rio Perdido was the first stop on our trip. We did ziplining and tubing and it was awesome. Had two boys, 10 and 7 and they loved it. The bungalows are great; spacious, the outdoor shower is fun, the dark interior is great for sleep and zen. The wall to wall windows and view of the jungle was pretty sweet. Food is great and the staff was super attentive and seemed to genuinely care. The staff was excellent. The ziplining and tubing guides were great. Stay here! It's fun!
An oasis in times of chaos

Amidst all the craziness, Rio Perdido was the perfect place to sit out while the world seems to be falling apart.

They take extraordinary precautions to keep everything extremely clean and sterile. But in general, the place is so big and the rooms are stand-alone that you really don't have any contact with anybody if you don't want to.

Why stay at home and binge-watch when I can spend my days surrounded by nature, relaxed, and most importantly, safe and away from all the chaos? I couldn't think of a better spot to do some quarantine, and will definitely come back during non-pandemic times!
An Unmatched Location
Even many Bagaces County residents are unaware of the breathtaking beauty that lies just beyond their doorstep. Our reserve offers everything travelers could possibly dream of – from the signature thermal river to hiking, white water tubing, mountain biking and zip-lining. Those craving a more relaxed experience can visit the spa, soak in one of many hot springs or enjoy a yoga session on the platform.
Guanacaste province, Costa Rica.