The evolution of Wellness Travel
Wellness is not simply about counting calories and going for daily jogs. True wellness is found in everything that you do... or that you don't do. True wellness is about being able to live optimally without really having to put enormous effort into your actions. If your daily routine is a chore, it will not last... and if it did, well... you'd probably feel miserable; certainly not healthy.
While at Rio Perdido, guests are encouraged to try a variety of local fare, prepared with fresh, local ingredients. Guests are encouraged to walk... to get a bit lost and absorb all that the forest affords us, from the amazing sights and sounds, to the clean air and pristine mineral water. Visitors should consider departing from their respective comfort zones, in favor of trying something new and perhaps even a tad adventurous, whether that calls for an epic hike through the dwarf forest reserve or a strenuous bike ride through our challenging "red loop". Perhaps a morning exploring dozens of completely natural, geothermically heated river pools is the thing for you. Whatever the case, visitors find that days here seem to flow. You refuel your physical and spiritual energies, without even noticing it. This is a type of therapy that anyone can appreciate. This is the essence of Rio Perdido.
Thermal Canyon & Springs
The centerpiece of the 600-acre private reserve is the Rio Perdido, which means "lost river". The 160-foot, thermo mineral gorge will cast its spell on anyone that descends into its magical waters. It's a completely natural and inspiring setting, unlike any other place on the planet. In this unique area, you can literally jump between hot and cold mineral water. Over 4000 gallons of hot water emanate from 8 registered springs, mixing with the river's cool f low. We have been blessed with dozens of soothing pools of varying temperatures - perfect for prolonged bathing - with cool swimming water just upstream. There are two very distinct ecosystems occurring adjacent to each other.
Along the Rio Perdido grows a beautiful forest of Ron Ron, Ojoche, Nispero, Jobo, Ceibo and Espavel trees. The canopy reaches upwards of 160 feet. This scene makes for a strong contrast with the dwarf forest growing outside and above the canyon. The canyons behave like long oases guaranteed to see all sorts of birds, mammals, reptiles, amphibians and insects. The trail circuit and a series of bridges, including a 200ft hanging bridge that connects the hotel to the reserve, allow vi visitors with a sense of exploration to tailor their own unique adventure, each day.
Volcanic mud body-painting
Just south of the main Rio Perdido thermal canyon access is a special hot river pool designated specifically for our signature volcanic mud treatment. The mud is to be applied by your partner, yourself, friends, or anyone else up for the task. We recommend that you allow at least 10 minutes for the mud to properly dry prior to rinsing in the warm river. Please note that this particular, high-quality mud contains many natural compounds, including sulphur, which has a strong odor.
Yoga
Our cliff-side pods are taking yoga to the next level as a part of our "meditation done right" initiative. The new feature is composed of three pods, nestled into the cliff side, 140 feet above the thermal river. The pods allow for an intimate meditative experience. The cliff side capsules combine the mindful yoga practice with breathtaking views for a one of a kind experience - yoga in the right setting.
Meditation
Rio Perdido's unique and hidden setting is the perfect scene for ref lection and rumination. Our guests will now be able to capitalize on our meditation services with the backdrop of Costa Rica's natural beauty. The meditation sites we offer are Mesa Norte and Las Tumbas. The two lookout points extend over lush greenery, the majestic rise and fall of surrounding mountains and the infinite stretch of sky. The convergence of natural beauty and peaceful solitude allow for an unforgettable and unrivaled meditative experience.
The Thermo-Mineral Pools
Our thermal canyon and springs allow guests to jump between hot and cold water. Now, our three mineral pools will provide a new space to explore the enchanting variations in temperature the setting allows. A gift from the underneath the Earth's surface, the mineral waters are a calming therapeutic experience made possible by completely natural processes.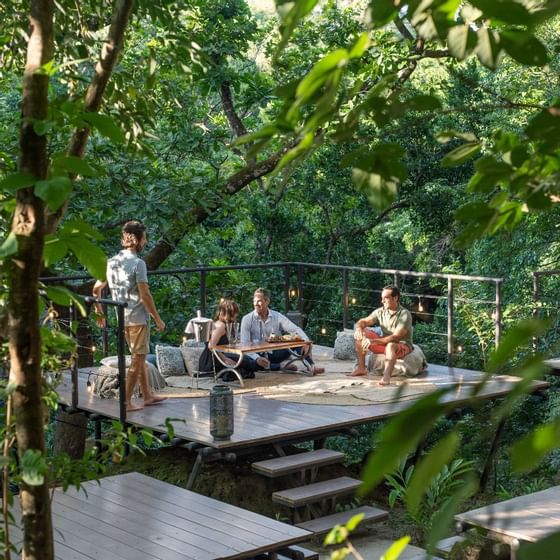 Rio Perdido is a wonderful place to reconnect with nature and its bounty. Our serene and magical setting is guaranteed to positively impact our guests.
Read More