Amenities
Enhance Your Visit
All of the amenities at Rio Perdido Hotel & Thermal Springs have been carefully designed to enhance your experience with us, and to make your visit as comfortable as it is inspiring. While the thermal river might be our resort's most spectacular feature, it's just one of many wonderful things waiting for you. Rise and shine with our complimentary breakfast, available every morning. Cool off in the pool as you enjoy a freshly squeezed juice, or visit The Workshop for an authentic memento of your time in Costa Rica. Should you need anything at all, our multi-lingual staff is eager to assist you.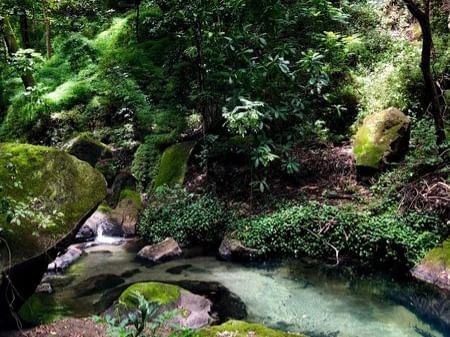 Rio Perdido
Our greatest treasure is Rio Perdido, which means "Lost River." You will find it in the center of our 600-acre preserve. She is stunning and will offer you the chance to see and experience dozens of hot pools as you meander through her mile-long thermo-mineral gorge. The pristine setting in which she flows will elate and inspire you, providing you with a renewed sense of well-being. As the hot pools draw their energy from the deep magma flows, your spirit will do the same. Your stay with us guarantees the rarest of opportunities to experience a completely natural setting, both untainted and spectacular.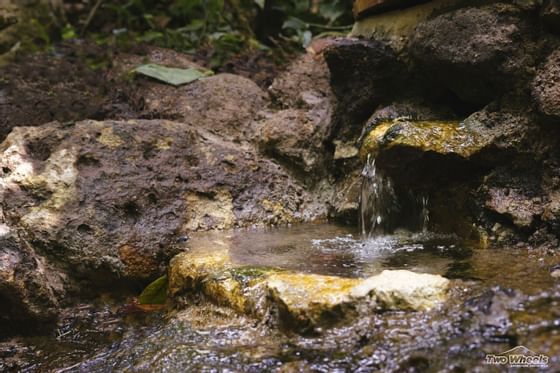 Medicinal carbonated spring
Plan to take a short walk across the canyon to our trail system's crossroads to find our naturally carbonated spring. Indulge in the natural water flowing from the spring with a long sip or many! The water will refresh you and perhaps more. The spring has been praised throughout history for its medicinal healing qualities.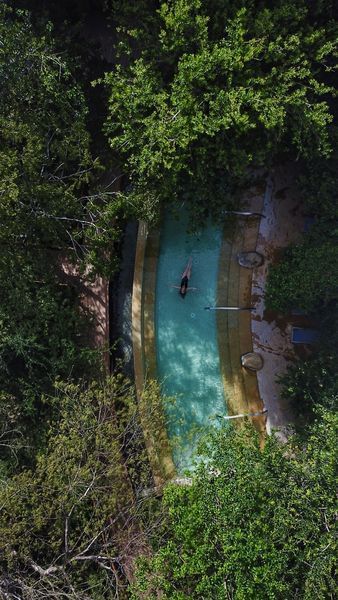 Thermo mineral pools
At Rio Perdido, we enjoy providing our guests with options tailored to suit them. Our thermal pools surrounding our main building offer you a choice with varying temperatures. From deep beneath the Earth's surface, the gift of natural mineral water rises to greet you. This calming therapeutic experience is made possible by nature. From hot to warm to cooler water, we encourage you to go on your own search to find the pool that's just right for you.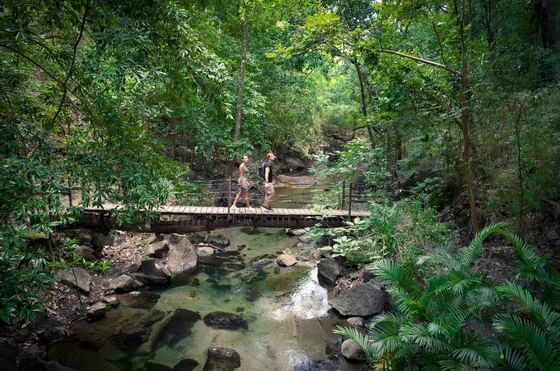 Iconic Bridges and Platforms
Strategically placed platforms and bridges ensure sweeping vistas that will delight both your eyes and your spirit. You can't help but feel a warm smile coming from deep within as you witness breathtaking views, including wind-swept rocky foundations, our river canyons, and the emerald beauty of the rainforest canopies.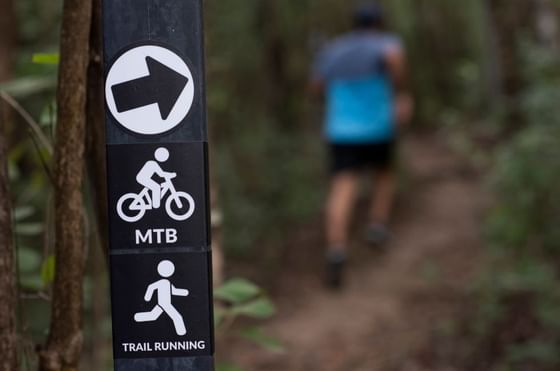 Trails
Our carefully planned and maintained trails allow you to explore our paradise magnificently. We offer several distances, including early moring and sunset options. Our shortest path is 1 km in length from start to finish with relatively flat surfaces. This hike passes across a hanging bridge and ends at the top of another jewel of Rio Perdido, the Yurro waterfall.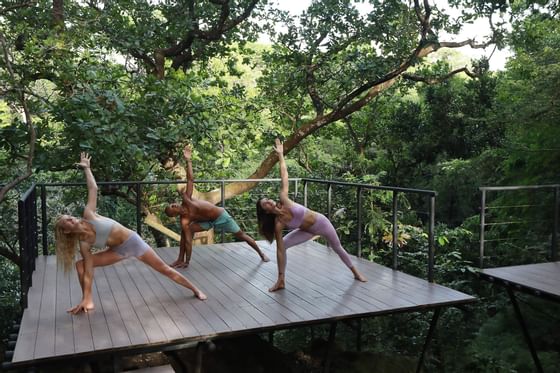 Yoga Pods & Daily Classes
At Rio Perdido, we take yoga to the next level with our philosophy of ""meditation done right."" We are thrilled to offer you our newest feature, four pods nestled among our cliffside. Picture yourself 140 feet above our thermal river in a space that is guaranteed to foster harmony of your body, mind, and spirit.
We are also pleased to offer daily, complimentary yoga classes.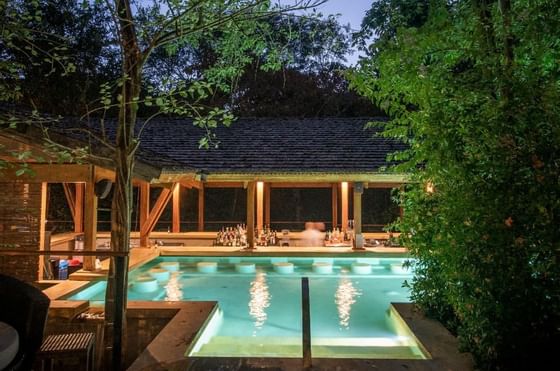 Swim Up Bar
We have joined the efforts of Mother Nature at one of our thermal pools by adding a swim-up bar. Enjoy the libation of your choice while receiving a naturally provided gentle massage from the pool's waterspouts. This ultimate spot for relaxation also offers food that can be ordered from the bar.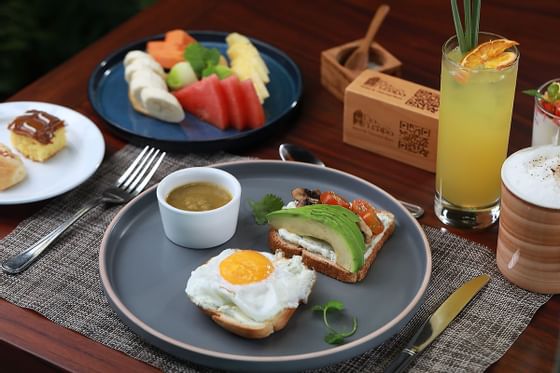 Complimentary Breakfast
Begin your day by nurturing yourself with our delectable complimentary breakfast. Our offerings include hot dishes and fresh fruit, cereal, pastries, coffee, and juice. It is the perfect way to activate your day of excitement or relaxation at Rio Perdido.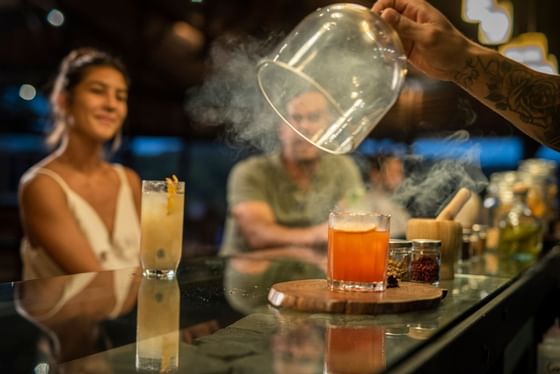 Completely handcrafted cuisine and cocktails
Our talented chef values and respects the local culinary tradition using inspired recipes that produce delectable meals. Fresh food and locally sourced ingredients ensure fantastic fare. Our kitchen team includes several locals who add invaluable, rural know-how to the inspiration. The result is an exquisite meal for you to enjoy. We offer locally inspired cocktails. These signature drinks are our own and only found at Rio Perdido, at least for now!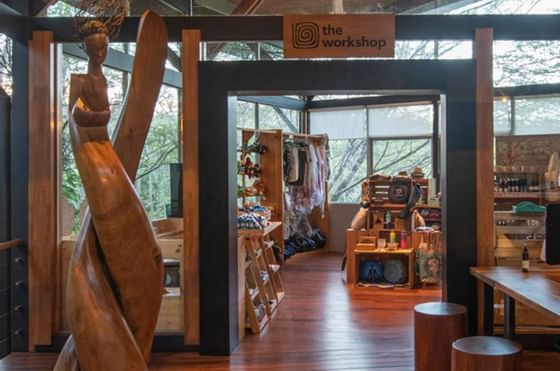 The WorkShop: Artisan Store
Our Workshop showcases beautiful and unique Costa Rican treasures, all created by talented artists, artisans, and farmers. You will not find any mass-produced product. Everything offered is unique, with no two items being identical. Our priority is to work with artists who consciously create their crafts by honoring our commitment to environmental responsibility.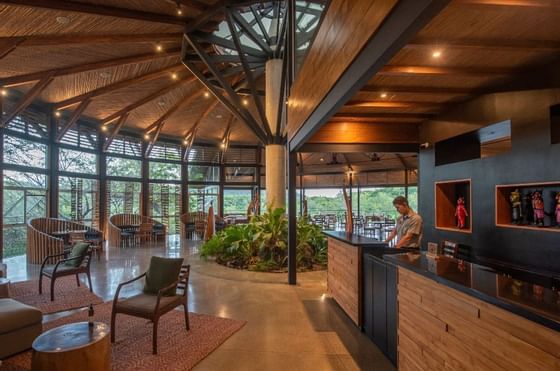 Concierge
At Rio Perdido, you have so many choices to consider to enjoy your stay with us! We have an expert concierge team in place to assist you in building a fantastic itinerary for your time with us, with each day's plan tailored to your needs and desires.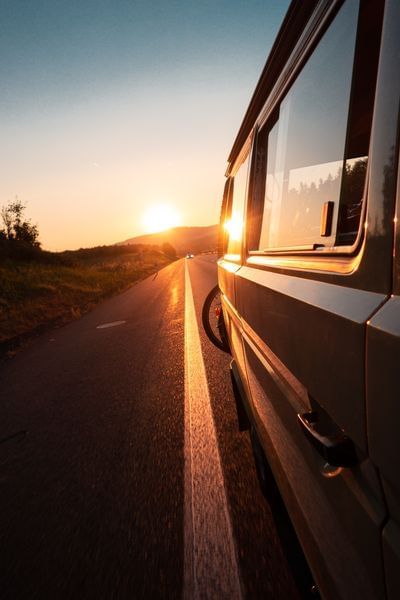 Shuttle Transportation
We can arrange shuttle services to and from Liberia Airport and local attractions, including the beaches and national parks. Please contact us for more information and pricing before your arrival. We want to ensure that you experience maximum enjoyment of our piece of paradise during your stay with us.