Rio Perdido
Experience The Real Costa Rica
Cooled by an ever present breeze and framed by a unique dwarf forest, Rio Perdido Hotel & Thermal River is a sanctuary of well-being, and the true embodiment of Costa Rica's legendary PURA VIDA.
You'll find Rio Perdido in the Guanacaste province, on the western side of the country. Even though the reserve is just an hour's drive from Liberia, this rediscovered gem was once a sacred spot for the Cabecar tribes; people who recognized and harnessed the magic of the thermal gorge, hundreds of years ago.
Rio Perdido was designed to be in perfect harmony with its surroundings. Great care has been taken to preserve this one-of-a-kind setting and its precious resources, while simultaneously providing a very comfortable experience for conscious-minded guests.
Spend your days swimming in the abundant, completely natural hot springs, along a mile of thermal gorge that cuts right through the spectacular, 600-acre reserve with 30 bungalows.
Witness a seemingly endless variety of exotic flora and fauna throughout 20 plus miles of hiking trails. Enjoy zip-lining, mountain biking and white water tubing, or if you prefer to relax, lounge by the pool, savour true costarrican cuisine prepared by local culinary artists, do some yoga on our cliff-side pods or visit our spa, for the region's best treatments.
Rio Perdido Hotel is nothing short of enchanting. We look forward to welcoming you.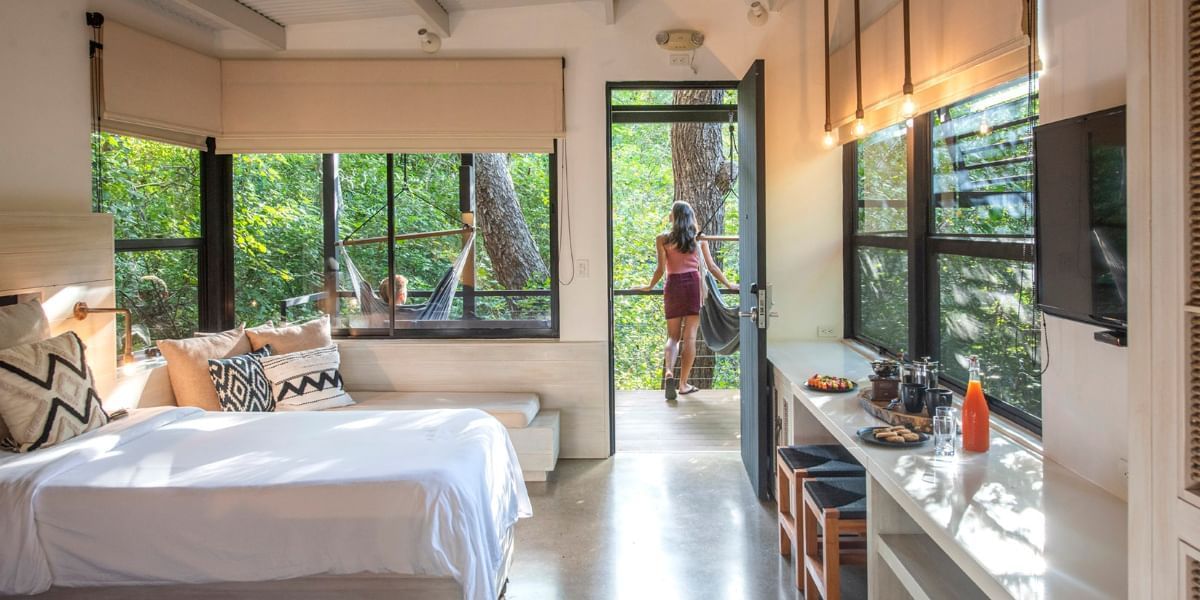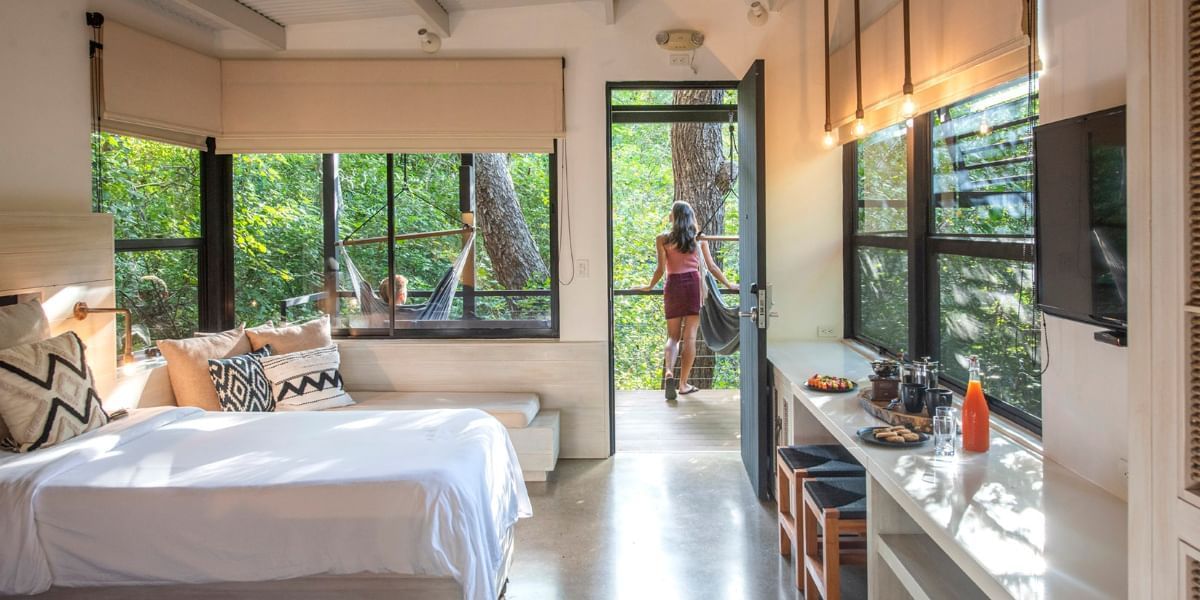 East Bungalows
East Bungalows are 452 square ft in size, and have two twin beds on industrial rollers, which can be moved together to form a king-sized bed.
Read More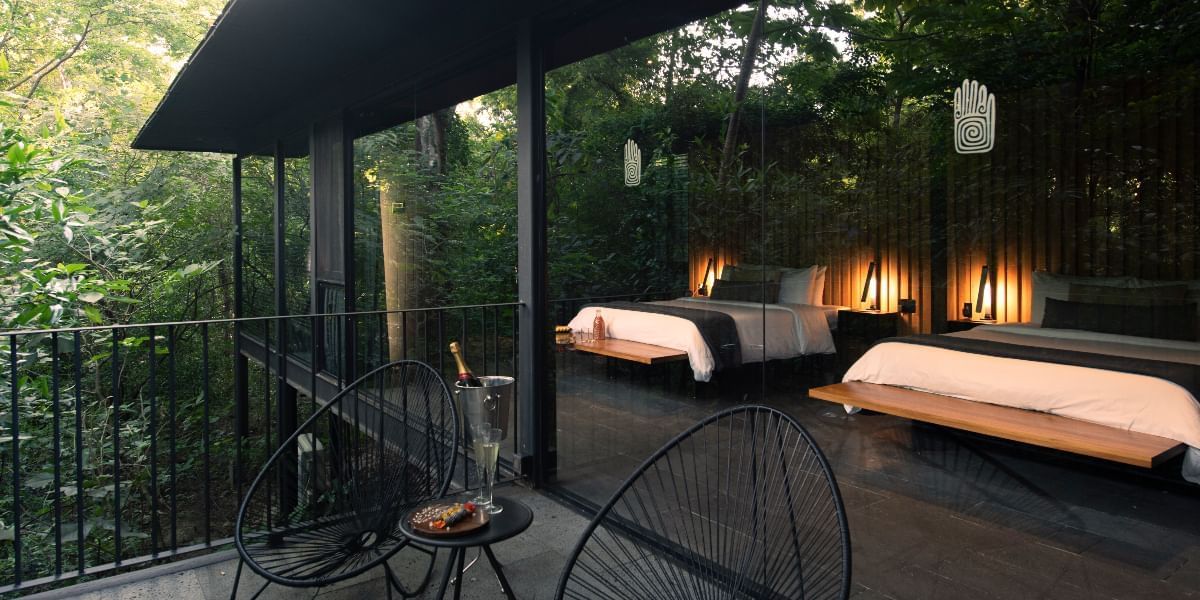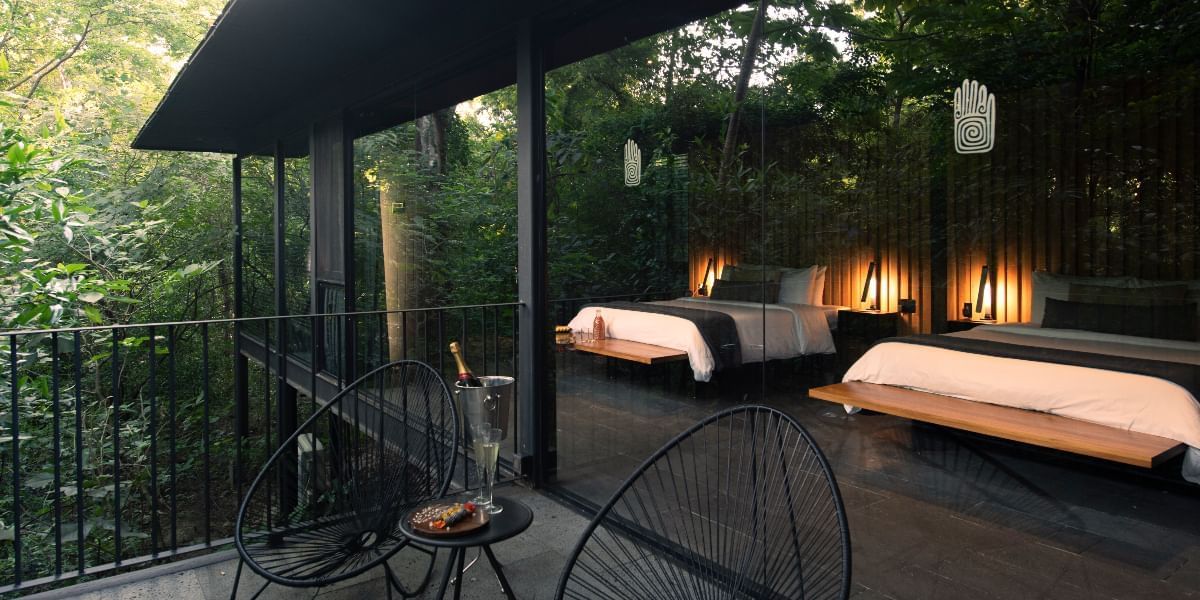 Center Bungalow King
Measuring a spacious 750 square feet, these bungalows consist of a comfortable bedroom and bathroom with an ample, elevated terrace, with custom-made acapulco loungers.
Read More
Things to Do
Our reserve offers everything travelers could possibly dream of – from the signature thermal river to hiking, white water tubing, mountain biking and zip-lining. Those craving a more relaxed experience can visit the spa, soak in one of many hot springs or enjoy a yoga session on the platform.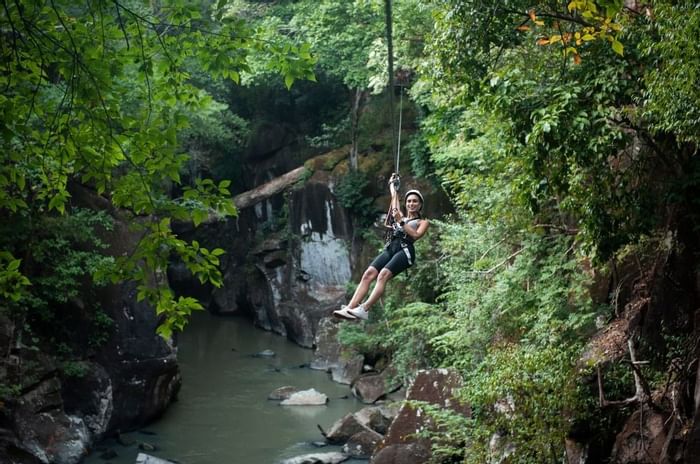 Canyon Adventure
There are hundreds of zip line tours throughout Costa Rica, but none like the ones we offer at Rio Perdido. The main stage of any zip line tour is the view. Nothing compares to sailing through our Rio Blanco canyon.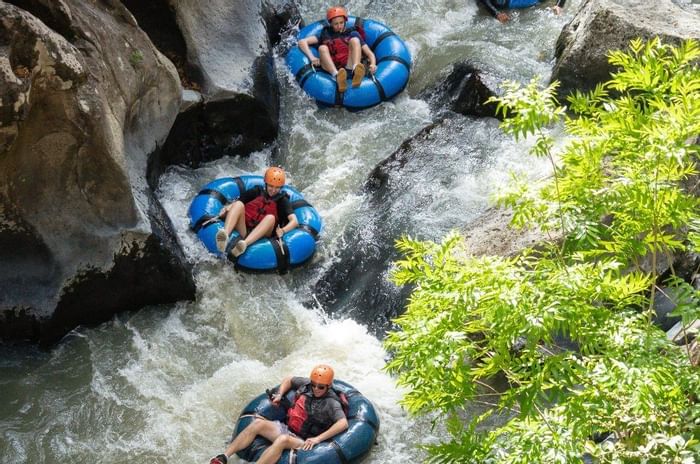 White Water Tubing
Rio Perdido's white water tubing is beyond compare! Picture yourself surrounded by our white canyon walls as you glide through on the magical waters of Rio Perdido.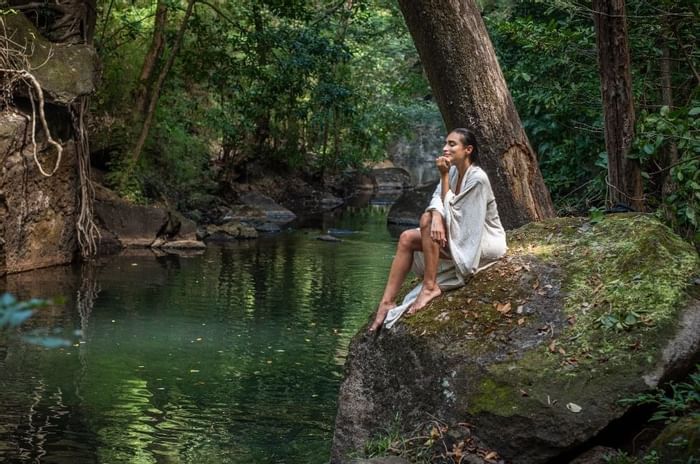 Discover Rio Perdido
There is so much to do in this gloriously secluded area. Whether you need the relaxation of body and mind or an adrenaline rush, we have just what you are longing for either on location or just a short trip away.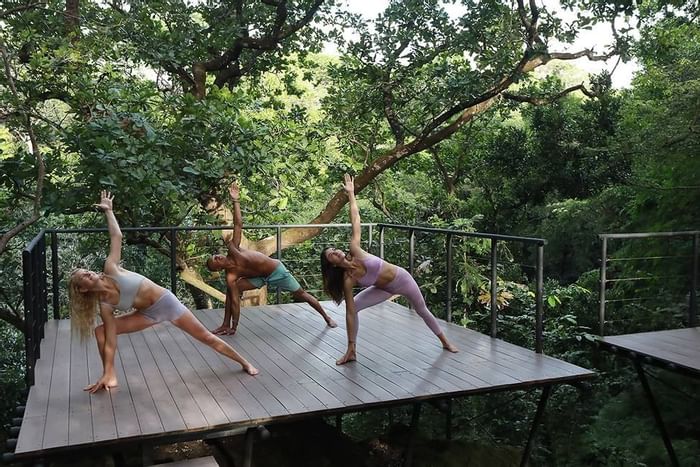 Yoga
Our cliffside pods are taking yoga to the next level as a part of our "meditation done right" initiative. The new feature is composed of four designated pods, nestled into the cliffside, 140 feet above the thermal river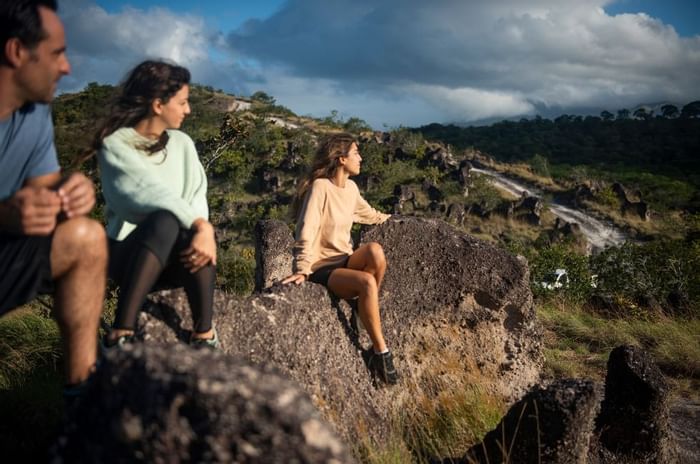 Mountain Biking & Trail Running
Our trails are locally known as Costa Rica's finest and most unique circuits. We offer a single track that flows through our gorgeous property, paths with monolithic rock, fun berms, and tricky descents.
Exceptional!

Exceptional resort, exceptional service. Everyone from the front desk team, bartenders, restaurant staff, tubing guides, yoga instructor, hiking guide, etc were wonderful, charming people with super helpful attitudes. We stayed 2 nights but would have stayed longer if we knew this place was so awesome. The outdoor yoga on the cliffs, night swims in the thermal river, and an exhilarating adventure down a river canyon in tubes were some of the highlights. We took a long hike around the hundreds of acres, self-guided, found the artesian well that flows naturally carbonated water, yumm. And the views from the top of all 3 volcanoes, stunning. Meals and drinks delic. Service, did I say exceptional?
Nature et comfort

Magnifique endroit! La nature y est omnipresente et spectaculaire. Allez se plonger dans la rivière avec les sources d'eaux thermales naturelles est une experience magique. Les chambres sont tres propres et confortables. Le service irreprochable.
Phenomenal Experience

5 star rejuvenation and nature. Well done. The service as outstanding, the experience, the wellness, the rooms wow, the sustainability and low impact on nature. This place is unique and a labor of true love.
Outstanding Nature experience

What a place! Beautiful throughout and designed with attention to so many details. Rooms are spacious and incorporate lovely materials -- stone, polished cement, wood. Tons of activities that take advantage of the unique natural setting: outdoor yoga under the tree canopy with birdsong accompaniment, river tubing, gorgeous zipline routes above the thermal river, 3 pools with varied temperatures, swim-up bar, and tons of mountain biking trails. Truly a unique destination.
Fantastic Pura Vida

The service at Rio Perdido was amazing. The only issue I had with the hotel is that I started my trip at Rio Perdido, therefore every hotel I stayed afterward did not compare.

Take my advice and stay at Rio Perdido on the last leg of your journey. Everyone who works at the hotel demonstrates the Pura Vida that Costa Rica is famous for.
The food at the restaurant is very good. As a vegan and vegetarian family we are used to traveling and having very limited options. Not a Rio Perdido- the food was fabulous.

The grounds of the hotel are lovely with daily hikes available provided by local guides.The rooms are spacious and comfortable. Very modern design with outdoor shower. The beds are comfortable and the grounds are peaceful so you will get a wonderful night sleep and leave rio perdido feeling renewed and pampered.
The perfect spot to end our honeymoon!

My husband and I recently stayed at Rio Perdido for our honeymoon. What a treat! The staff were all so friendly and attentive, and we loved the individual bungalows. The swim up bar was a hit, and I thoroughly enjoyed all of the cocktails they served up. The thermal river the hotel is located on is beautiful and makes for a great afternoon exploring the various springs. We participated in their Canyon adventure (ziplining) when we first arrived and it was so fun! I did not expect the hotel to offer ziplining so close to their hotel (it's literally on their property), so it was very convenient. Would definitely return!
Rio Perdido is the most amazing and unique place to stay, it's an experience you'll never forget!

We absolutely loved our stay at Rio Perdido, we stayed in one of the bungalows where we could sit and watch the monkeys in the trees from our balcony. The bungalows are clean and comfortable, with gorgeous bathrooms.

We went ziplining which was absolutely incredible, they have a fantastic team which made you feel very safe whilst also making it really fun! The hotel is also surrounded by the most beautiful springs and thermal rivers which you can swim in, as well as a hike trail where you can see the local wildlife.

The restaurant has the most beautiful views and the food is delicious! Every single member of staff that we met at Rio Perdido was so welcoming, friendly and knowledgeable.

Overall, if you're thinking about visiting then just go for it, you won't regret it!
The attention to detail to every aspect of our stay is unmatched

My wife and I stayed at Rio Perdido for the fifth time in the past six years in October 2022. It has become our happy place - one we visit to both rest and recharge in nature. Rio Perdido has achieved harmony with its surrounding landscape, and we admire the environmentally conscious practices that make it a leader in Costa Rica. The hospitality that guests receive is unmatched from any hotel we've ever stayed.

The property has incredible resting places: the thermal river, pools, atrium, spa, bungalows, yoga platform, along any of the trails, etc. And it also provides an outlet for adrenaline and adventure through its on-site tour: tubing, zip-lining, hiking, biking, cocktail class, etc.

For those seeking the healing properties of nature and adventure, look no further. I wish this experience for everyone.