Rio Perdido
Experience The Real Costa Rica
Cooled by an ever present breeze and framed by a unique dwarf forest, Rio Perdido Hotel & Thermal River is a sanctuary of well-being, and the true embodiment of Costa Rica's legendary PURA VIDA.
You'll find Rio Perdido in the Guanacaste province, on the western side of the country. Even though the reserve is just an hour's drive from Liberia, this rediscovered gem was once a sacred spot for the Cabecar tribes; people who recognized and harnessed the magic of the thermal gorge, hundreds of years ago.
Rio Perdido was designed to be in perfect harmony with its surroundings. Great care has been taken to preserve this one-of-a-kind setting and its precious resources, while simultaneously providing a very comfortable experience for conscious-minded guests.
Spend your days swimming in the abundant, completely natural hot springs, along a mile of thermal gorge that cuts right through the spectacular, 600-acre reserve with 30 bungalows.
Witness a seemingly endless variety of exotic flora and fauna throughout 20 plus miles of hiking trails. Enjoy zip-lining, mountain biking and white water tubing, or if you prefer to relax, lounge by the pool, savour true costarrican cuisine prepared by local culinary artists, do some yoga on our cliff-side pods or visit our spa, for the region's best treatments.
Rio Perdido Hotel is nothing short of enchanting. We look forward to welcoming you.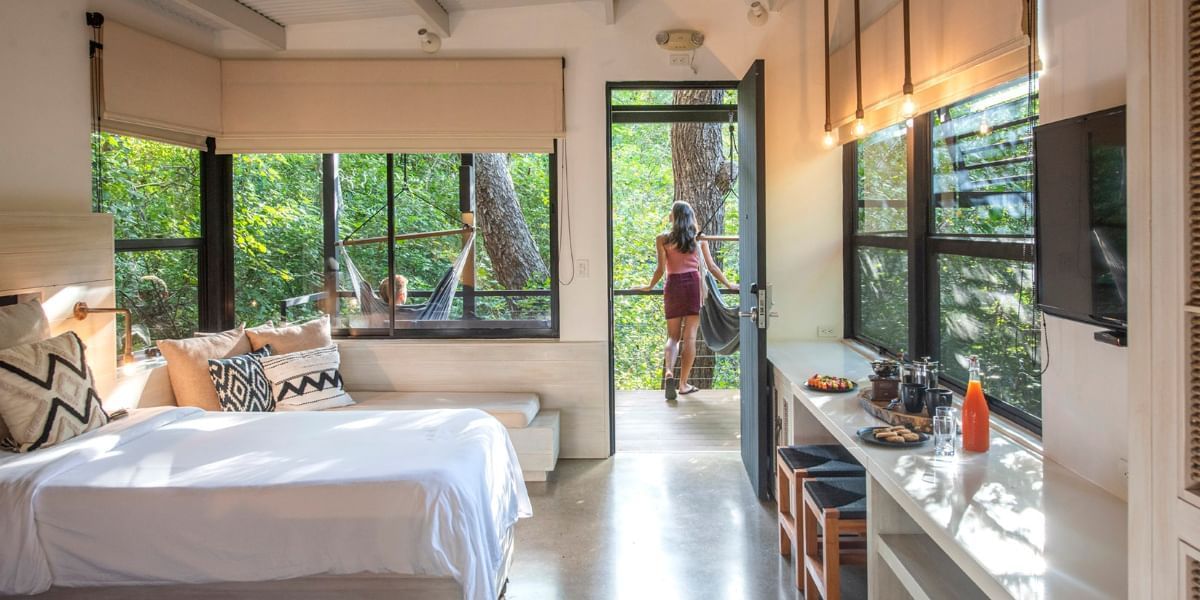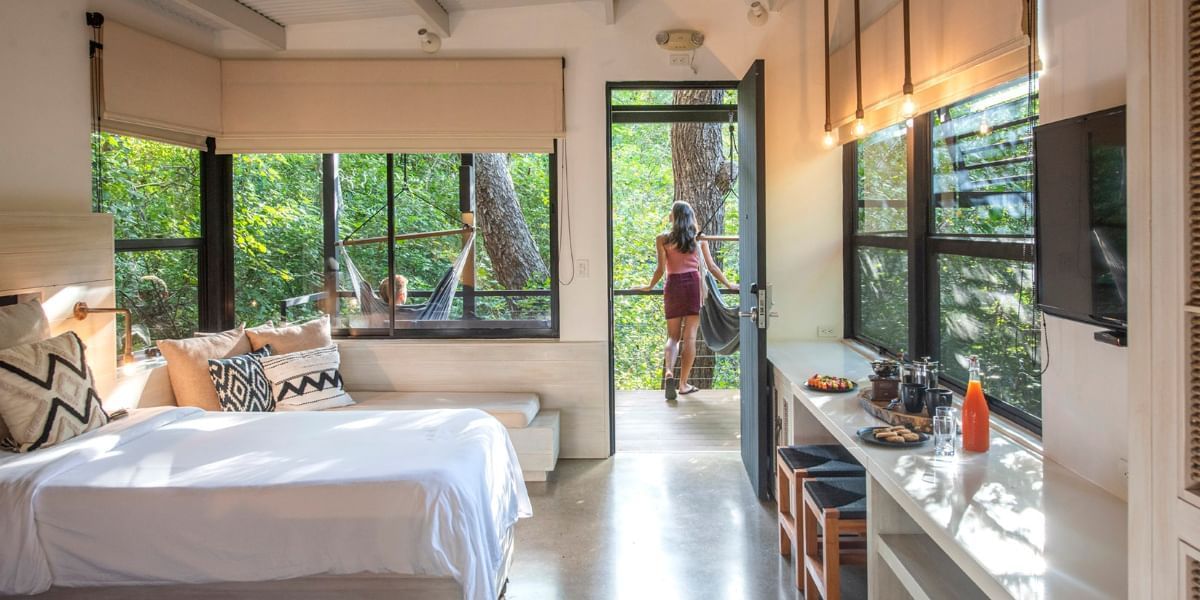 East Bungalows
East Bungalows are 452 square ft in size, and have two twin beds on industrial rollers, which can be moved together to form a king-sized bed.
Read More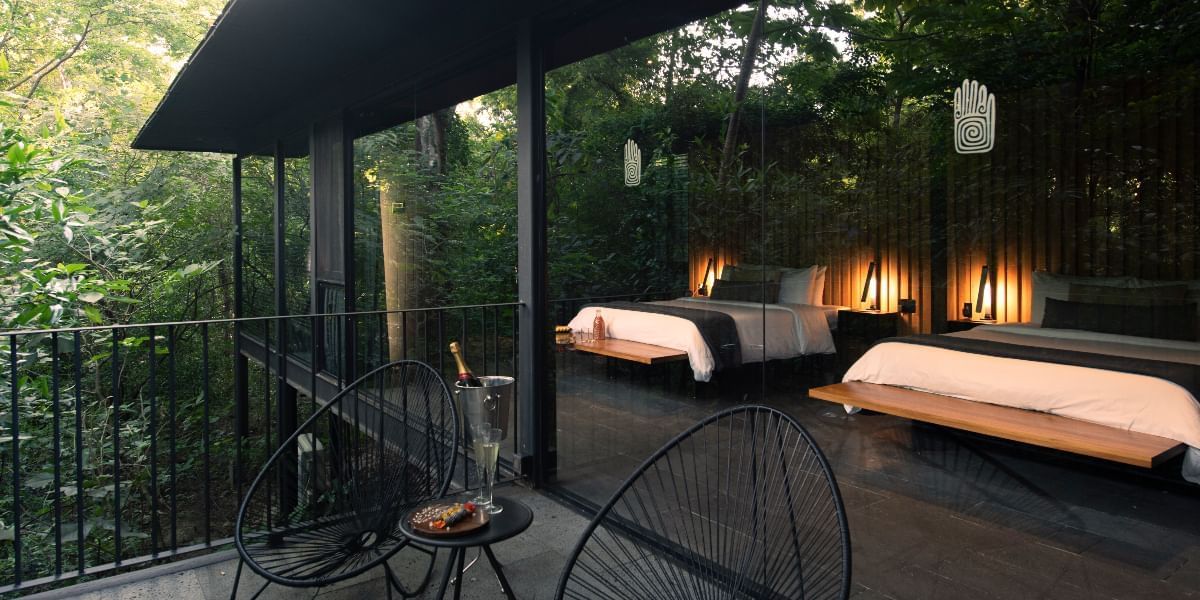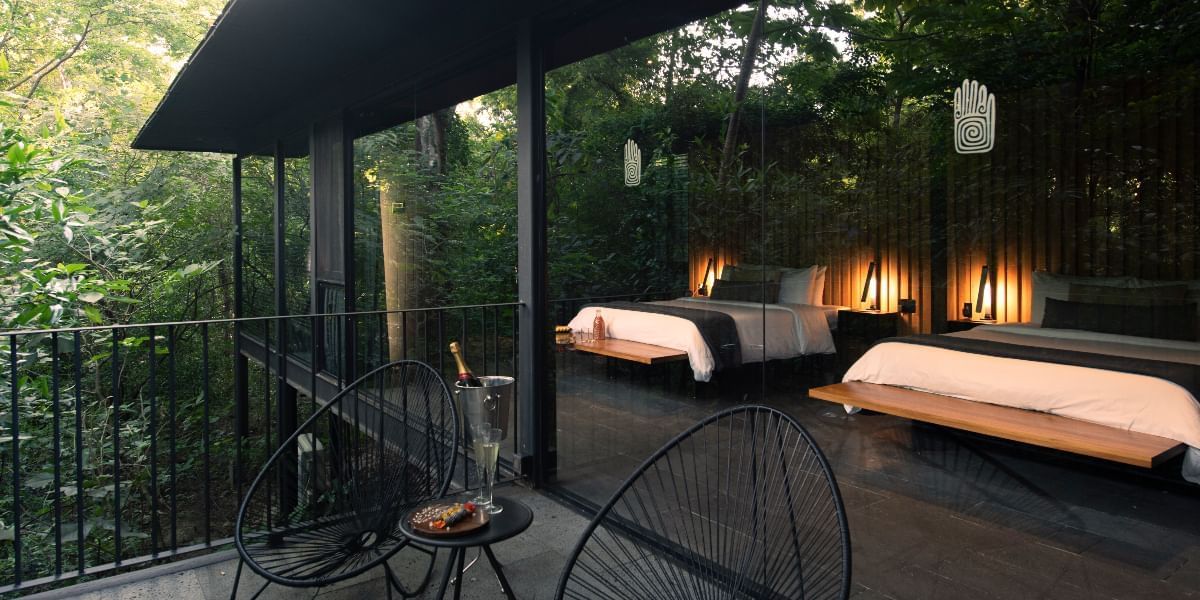 Center Bungalow King
Measuring a spacious 750 square feet, these bungalows consist of a comfortable bedroom and bathroom with an ample, elevated terrace, with custom-made acapulco loungers.
Read More
Things to Do
Our reserve offers everything travelers could possibly dream of – from the signature thermal river to hiking, white water tubing, mountain biking and zip-lining. Those craving a more relaxed experience can visit the spa, soak in one of many hot springs or enjoy a yoga session on the platform.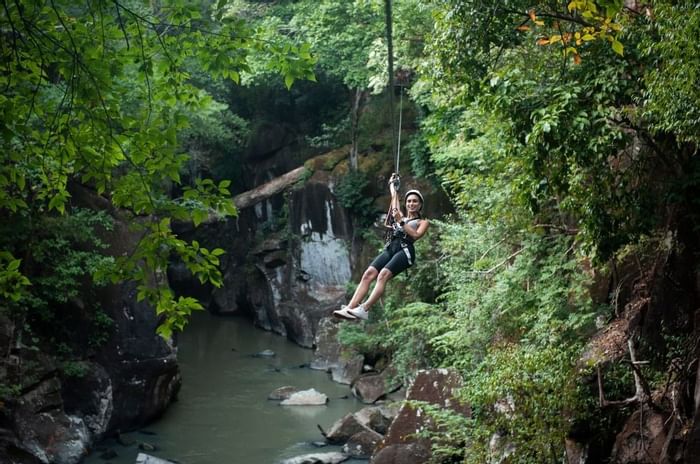 Canyon Adventure
There are hundreds of zip line tours throughout Costa Rica, but none like the ones we offer at Rio Perdido. The main stage of any zip line tour is the view. Nothing compares to sailing through our Rio Blanco canyon.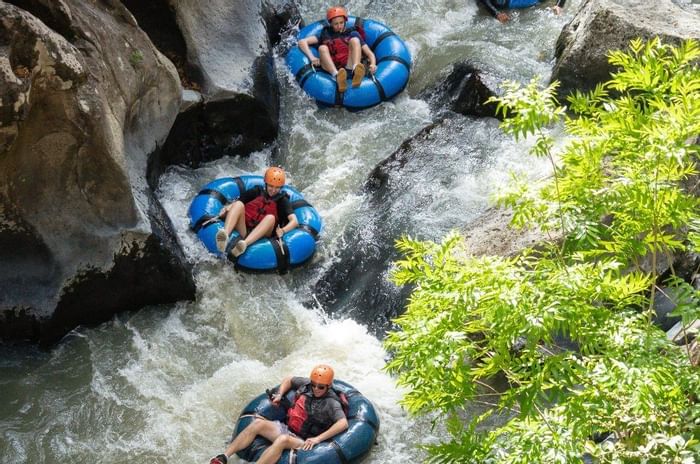 White Water Tubing
Rio Perdido's white water tubing is beyond compare! Picture yourself surrounded by our white canyon walls as you glide through on the magical waters of Rio Perdido.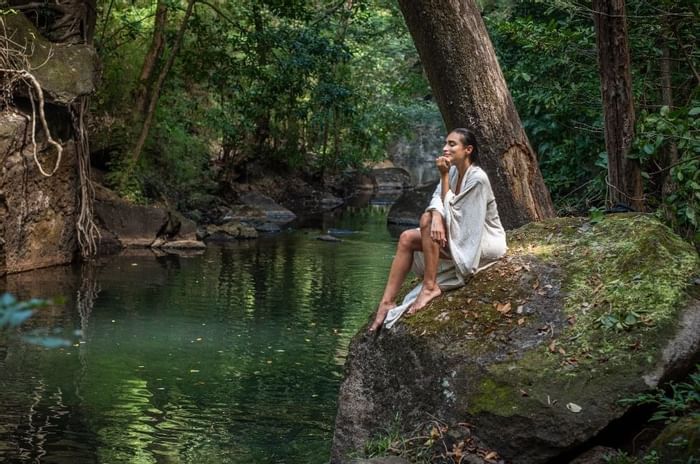 Discover Rio Perdido
There is so much to do in this gloriously secluded area. Whether you need the relaxation of body and mind or an adrenaline rush, we have just what you are longing for either on location or just a short trip away.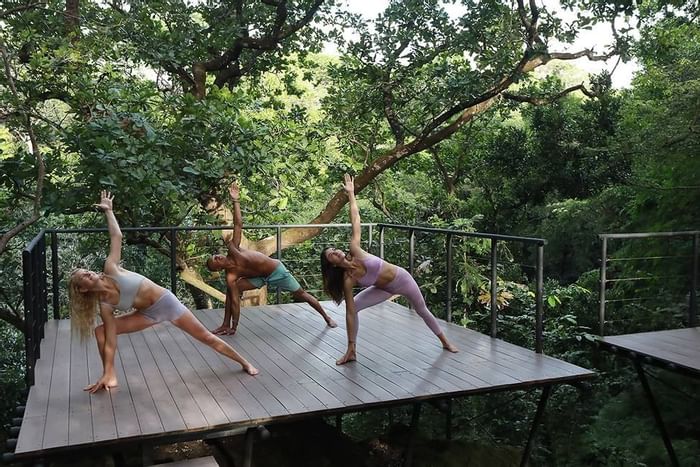 Yoga
Our cliffside pods are taking yoga to the next level as a part of our "meditation done right" initiative. The new feature is composed of four designated pods, nestled into the cliffside, 140 feet above the thermal river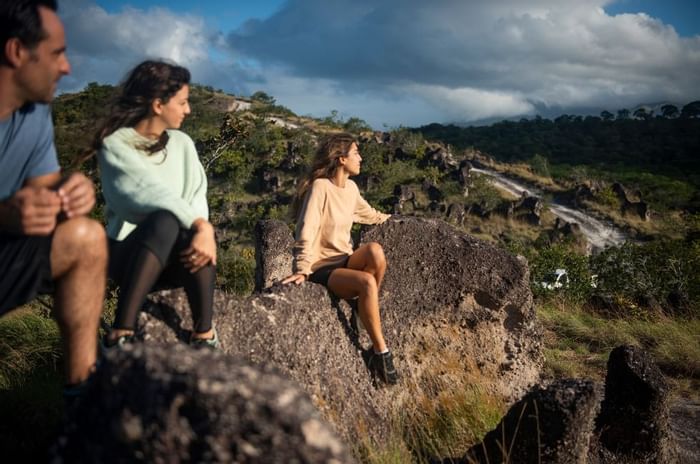 Mountain Biking & Trail Running
Our trails are locally known as Costa Rica's finest and most unique circuits. We offer a single track that flows through our gorgeous property, paths with monolithic rock, fun berms, and tricky descents.
Costa Rican Experience!

Our second time at Rio Perdido and it does not fail. Smack dab in the middle of lush greenery and trees are these upscale one room cabins. There is a beautiful wooden beam main building with open air restaurant, bar, concessions, etc. Three pools and two of them are fed from the natural thermal springs. Swim up bar. Great hiking paths, mud pool, and other activities that are always evolving. Great food. Friendliest people you will ever meet. Glad we came by again.
Una experiencia única

El hotel es realmente único y diferente, permite un contacto directo con la naturaleza pero a la vez las habitaciones son lujosas y cómodas.
Los senderos y el río termal son la manera ideal de conocer la zona y disfrutar de sus bellezas naturales, el río es completamente natural sin intervención humana, se pueden observar animales, peces e insectos.
El restaurante y la comida fueron excelentes, todo delicioso y en buenas porciones, suficiente variedad en el menú y nos encantaron los especiales del día.
En general nuestra experiencia fue hermosa, el trato de todos los colaboradores del hotel fue excepcional, un servicio de lujo.
Truly a sanctuary

I have found my new hot springs sanctuary in Costa Rica. I spent 4 nights at Rio Perdido which was a highlight of my past month in Costa Rica. I could have easily stayed another week or more. The geothermal river was a magical spot for me to meditate and reflect. The waters are incredibly healing.

I absolutely loved my Bungalow! It felt like I was in a luxury tree house. The decor is lovely, and compliments the natural landscape well. The bed was very comfortable, which allowed me to sleep like a baby.

The staff are super friendly, helpful and accommodating. I was quite impressed with the food as well. Loved their fresh juices and homemade tortillas! I loved my stay so much that I'm heading back next month!
Exceptionnel

Deux jours en pleine forêt au milieu des animaux dans des bungalows très confortables. Nous avons passé un excellent séjour dans ce lieu perdu : piscine agréable, sources chaudes, personnel sympathique et activités bien encadrées (je recommande notamment l expérience de la tyrolienne)… à faire en famille ou en amoureux
Unbelievable experience!!!

If you are any where near this place do yourself a favor and book for as long as you can! My stay was too short! Staff is incredibly attentive and friendly. Food was amazing! The bungalows are amazing. Not to mention the howler monkeys with coffee at daylight. I forfeited two nights where I had originally booked just to come back here for my last 2 days in Costa Rica! Tubing and the thermal river, swim up pool bar all on 600 acres. I'm too old for zip line but you can do that too.
This hotel is a GEM!

Rio Perdido should be on every traveler's list of places to visit. It is a true GEM from the staff to the food to the activities, thermal rivers, yoga, hiking I truly can't say enough about the quality of each and everything at the resort. They have thought of the little details and the staff are so helpful and accommodating (even when you ask for a golf cart to take you to your room which is super close!).
Paradise

What a truly beautiful place. Everything about it was stunning. The staff could not do enough for you. They were helpful, thoughtful and had a very good sense of humour. We were really totally unaware of other guests as the "bungalows" were staggered about. The grounds were beautiful and very well kept. Very good signage. It's set in a dwarf forest with lots to do if one wants to do but fabulous for complete relaxation as well. Great to be so close to the animals. The thermal river was an amazing experience and definitely not to be missed. Food delicious. Bungalow spacious, clean and very comfortable with small balcony. I had a massage which was great. A really, really lovely place could happily have stayed longer. Highly recommend this wonderful place. Thank you to all for a truly memorable stay
A place like nowhere else I've ever stayed

I wish I could give this place 10 stars. It was such a wonderful stay. I am neither an outdoorsy person or an adventure seeker, but this was just such a cool place. Our family of 5 came here for 4 nights for the first half of our vacation.

We had two bungalows. They were a nice size. Beds were super comfortable and the shower was really nice. It was just so peaceful they way they were surrounded by trees. The monkeys visited us there a few times and we saw them many times throughout the resort.

The service was exceptional. They were friendly and always there for whatever you needed. We did the zipline course. Again, AMAZING!